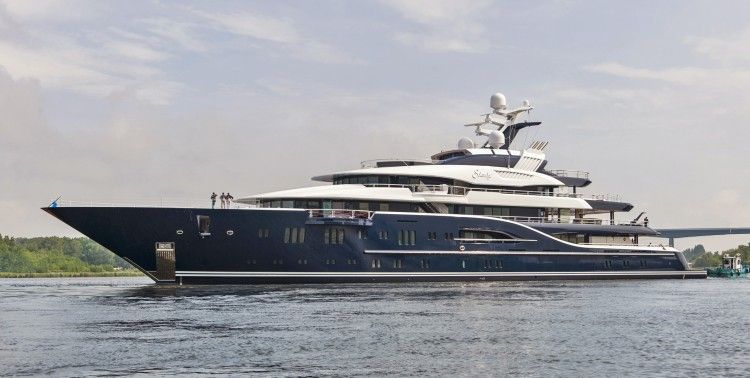 It's not every day that a new mega-yacht of over 200 feet long is launched, but that's just what occurred a few weeks ago at the Lürssen shipyard in Rendsburg, Norway. While under construction, the vessel in progress was known as Project Niki, but now complete, it's being christened Solandge.

Measuring 85.1 meters (279 feet) from bow to stern and 13.8 m (45 feet) in beam, Solandge ranks as the 62nd largest yacht in the world. Lürssen, for what it's worth, also built the 590-foot Azzam (which launched earlier this year as the largest in the world), and are responsible for many of the world's other largest yachts.
The project was a collaborative effort, with
Lürssen Yachts
handling the construction,
Espen Oeino
in charge of exterior design and
Aileen Rodriguez
handling the vessel's commodious interior. Back when it was called
Project Niki
, the yacht was overseen from start-to-finish by Master Yachts, which supervised the construction on behalf of the owner and was on site at Lürssen right from the beginning in 2011. Moran Yacht & Ship handled its sale and specification.
"It was a pleasure to work with Lürssen, exterior designer Espen Oeino Design, Rodriguez Interiors and Dölker & Voges in a creative and solution-orientated environment," said Master Yachts chief executive Richard Masters. "Always striving to give the Owner his dream, with her striking exterior lines and her unique Interior."
The sleek lines and striking blue hull give
Solandge
a dynamic and imposing look, while the interior is said to blend classic and contemporary elements. Five artisans collaborated on crafting the interior space, using 49 different types of stone and 33 exotic woods sourced from around the world through whose seas this yacht will venture in the coming years.
Little in the way of further details are known at this point regarding the yacht's specifications and equipment, but
Solandge
is set to cruise the Caribbean this winter where it will be available for charter.