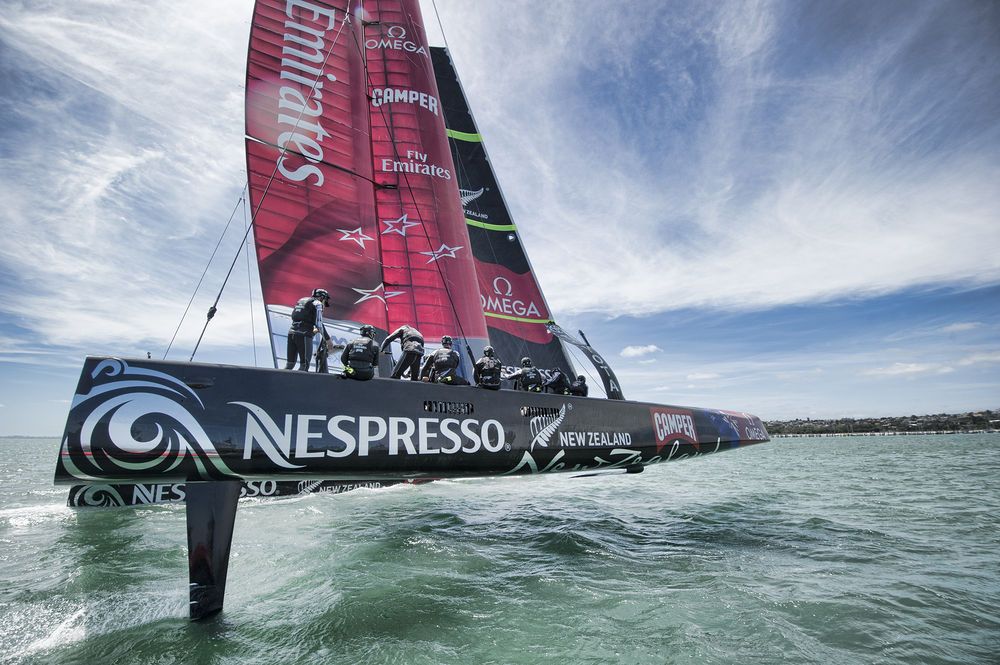 Photos Courtesy of Nespresso
With almost an entire summer's worth of racing coming to an end this week, anyone with even the vaguest interest in sailing has been paying close attention to first the Louis Vuitton Cup and now the
America's Cup
, as Oracle Team USA defends their title against challengers Emirates Team New Zealand. One of my favorite parts about this sport is simply how timeless and classic it is; this is the world's oldest trophy to win.
The Ultimate Cup.
Earlier this year Nespresso was announced as the
official coffee of the 34th America's Cup
. No big surprise really; this is not the first time, and Nespresso has aligned themselves with America's Cup in some shape or form for around a decade. At the moment the brand is also an Elite Sponsor to the Emirates Team New Zealand. (Looks like they picked the right team, because if you haven't actually been following the races, New Zealand beat Italy in the Louis Vuitton Cup and is now facing off with defending champion Oracle Team USA).
As with any brand who chooses to sponsor a team like New Zealand and an event like America's Cup, Nespresso made the decision to do so with careful consideration
, selecting a distinguished pastime and team, not unlike the art of coffee making and the culture of their own company.
Emirates Team New Zealand
leader Grant Dalton was quoted saying that "honesty, hard work, camaraderie, adaptability, trust, concentration and respect are our guiding principles." Similarly
Nespresso strives for the same passion points and can identify with a spirit of fierce competition to be the absolute best, each going for "the ultimate cup" in their own way
.
There are additional commonalities here that may not be totally apparent to the average onlooker, but they exist nonetheless. Both the sport of sailing and the tradition of drinking coffee are steeped in history; both have a level of prestige that resonates strongly with a well-cultured crowd;
both are making innovations on a grand scale
. It's actually pretty interesting when you see the similarities placed side by side:
With roots dating back to primitive times, sailing has become considerably more advanced in the modern world. I am not just talking about the latest gadgets being added either. This year we are seeing the result of a very controversial change in the rule book: the actual boats required to compete changed from traditionally-styled single-hull to the more modern (read: more dangerous, faster, bigger) catamarans. Boats being used in these races are sporting hard sails (not unlike an aircraft wing); reach upwards of 70 knots (about 80mph); are about 70 feet long and ride on hydrofoils. Hydrofoils actually lift the boat right out of the water, making for a much more
scary
breathtaking race. Suffice it to say that the men who operate these vessels are uniquely trained to handle this kind of boat, making them elite athletes in their sport.
Nespresso, like Team New Zealand, has also stepped up to the idea of innovation in a world where things have remained the same for a very long time. The company seeks to modernize the way we drink and even think about a cup. The old design was dated, so they reinvented it. As a brand, Nespresso works with farmers all over the globe to improve the quality of their harvests; they choose to select only the top one percent of coffee beans available in the world; they are consistently working towards that
ultimate cup
. And that is an uphill battle (or race, if you will), when you consider that only 13 percent of the market has made the move so far. But I think it is fair to say that the number will continue to rise as more and more of the public is won over by the quality, taste and useability a Nespresso machine offers.
If you have not had the opportunity to experience the America's Cup festivities on the San Francisco Bay, the whole embarcadero buzzes with the excitement of America's Cup Village, concerts, events; yachts and other vessels take to the water to get a closer look at the races. Since Nespresso is indeed the official coffee of the races, there are baristas spread out within the Village, giving everyone a chance to try a cup.
Nespresso also just recently revealed a very special addition to their lineup of machines: the Maestria Limited Edition America's Cup. Only 800 of them have been made and they are beautiful, so if you happen to be a fan already of both Nespresso and America's Cup... you probably need to go pick one up right quick. And if Emirates Team New Zealand
does
take home the world's oldest trophy this week, that machine will be that much cooler.