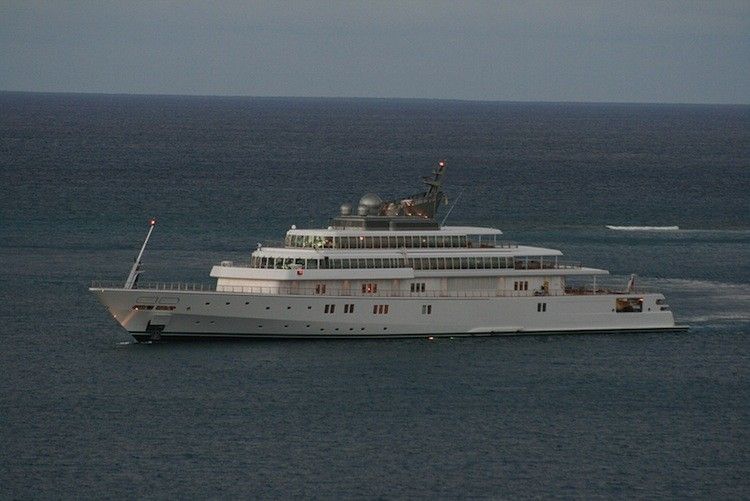 Photo Credit: Tracy Donald | Flickr
Superyachts.com has just released their official forecasted list of the world's largest yachts in 2014, including seven massive new builds, and the results show that David Geffen's Rising Sun is due for a downgrade. Thanks to a new entry at #9, Geffen's enormous vessel, currently #10, will move down and out of the Top 10. This will also most likely mean, as we predicted last month, that there will no longer be any U.S.-owned yachts in the world's Top 10. Paul Allen's 414-foot. Octopus, the second largest U.S. yacht, will also move down a spot. Seven new entrants to the list of the world's 100 largest yachts are forecasted to launch in 2014, four of them taking places in the Top 50, with owners of the new yachts expected to be mainly Arabic and Russian. 
The largest of the new launches this year will be the 459.3-foot. Victory, designed by Espen Oeino and built by Italy's Fincantieri Yachts, which is the vessel that will displace Geffen. Next up is the 336.6-foot. Quantum Blue built by Lurssen Yachts, sliding in at #30. Coming in at #31 will be a 331.3-foot. project codenamed V853 from Germany's Kusch Yacht. At #48 we'll see the 295.2-foot. Global, also from Lurssen Yachts. #51 will be occupied by the 291.3-foot. Illusion built by Yentai Raffles in China, presumably for a Chinese owner. Next up at #52 we'll see the 290.3-foot. Project Y710 from Oceanco; and at #76, the 269-foot. Abeking 6497 from Germany's Abeking & Rasmussen. Of course schedule changes could mean further developments as the year progresses, so stay tuned.