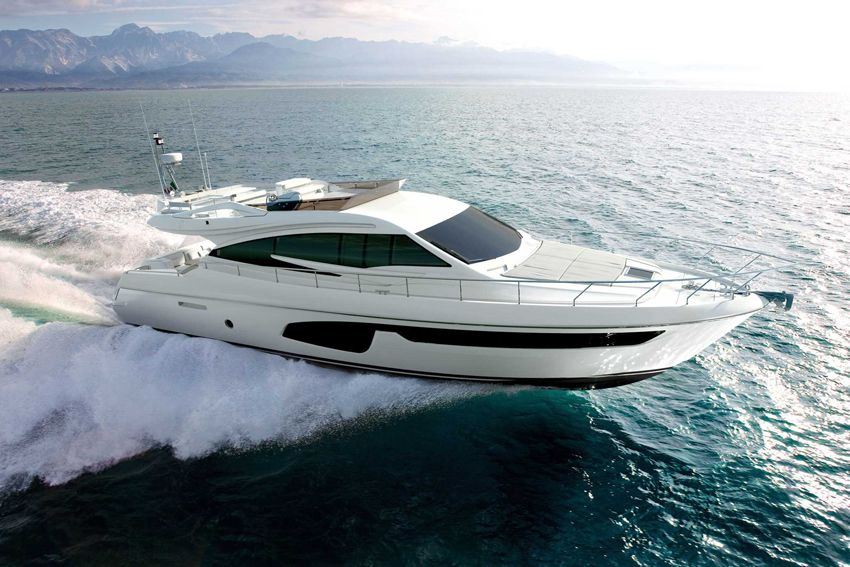 Photos Courtesy of Ferretti Yachts
Ferretti Yachts has embarked on a new project that will renovate their line of vessels that are shorter than 70 feet in length, with their first offering called the 650. The project is set to debut during boat shows coming up this autumn, with the first craft drawing inspiration from their best selling 620 luxury yacht — especially noticeable in the waterline and layout.
At 64.6 feet long, the exterior shows off its aerodynamic flybridge and fiberglass elements that "cut through the profile of the glazing in the superstructure." Windows can be seen in the three cabins below deck (the master, guest, and VIP), which apparently let in more light than their previous vessels. The pilot station was given a fresh look, resulting in something the brand hopes is a little more sophisticated and elegant. The aft area was designed to make it easy to store and launch the tender, with a lift created that's able to lower it into the water — even tenders that are over nine feet in length. The lift addition is especially important because prior to the 650, only Ferretti models over 70 feet saw this feature.
All of the models in the new range will have alternative layouts on the sundeck (which comes in the hard-top version too) and within the boat, giving you several options. The cockpit can be accessed from the swimming platform, from the port and starboard sides, via steps that were built into the hull. If you'd like, Ferretti can even install a electro-hydraulic gangway on the starboard side. A glazed door found in the salon leads down to the interior, which is decorated to be functional and stylish. If you go with the standard version, the galley is open and allows you to use it as a lounge, running right into the dining and living areas. Of course, you can also have the galley closed in with bulwarks.
The lower deck is where you will find the three double cabins and three separate heads, all promising to be incredibly quiet thanks to sound insulation. The owner's quarters includes the cabin, a full head behind the bed, a walk-in closet, vanity set, and a sofa. The guest cabin has twin beds and the double VIP cabin has a private bathroom and shower. There's a different layout available that brings the galley down to the lower deck where the starboard guest cabin is, and puts a large dinette in the galley's place, meant to bring a bigger entertaining aspect to the luxury yacht.
No word yet on how much the FY650 will set you back, but we're guessing price points will be released once we get closer to those autumn boat shows.