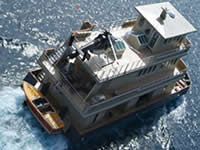 Luxury Yachts:
Walk down to the end of the Tahoe Keys Marina on South Lake Tahoe and docked at the last slip, you'll find a boat unlike any other on the Lake.
The Sierra Rose, which just celebrated its third year on Tahoe, is a three-story luxury, motor yacht featuring three bedrooms (two master suites, as well as crews quarters), a gourmet galley with a formal dining area and salon, and a spacious upper deck that doubles as a helicopter pad with hydraulic, motorized handrails.
Inspiration for the boat came from one of Tahoe's legendary fixtures: the Tahoe Queen, a paddle wheel, riverboat style vessel that operates tours and dinner cruises around the famous lake.
Owner and creator Mike Stewart explains.
"My idea was to recreate that classic style of river boat, but on a smaller scale, with the personal comforts of a yacht."
Small isn't a word one would use to describe the yacht. At 86 feet long, and offering nearly 2500 square feet of indoor space and a 1200 square foot, outdoor entertainment space, the Sierra Rose is the largest, private vessel on Lake Tahoe.
Stewart commissioned the hull and Volvo Penta engines from Finney Boat Works, in Couer d'Alene, Idaho. They were shipped to Reno, Nevada, where over the course of several months, Stewart and a team of architects, engineers, plumbers, welders, electricians, designers and audio/visual experts, built the boat's three main levels.
The first level features two master suites as well as crew's quarters. The suites each have their own spacious marble bathroom, which both connect to a private, outdoor Jacuzzi. The main level also features a motorized, hydraulic lift at the stern, for launching and storing the Golden Bear, a 20-foot, mahogany wood, Grand-Craft sport boat.
The second level houses the gourmet galley, formal dining area with monogrammed Wedgewood China and Waterford Crystal, plus a salon with leather furniture, a 42" flatscreen HDTV, and 5-disk DVD player. Finally, the top level includes the pilot's house, and a deck that also serves as a helicopter pad, complete with hydraulic, motorized handrails.
With subtle curved ceiling arches, African mahogany floors and earth tone color palette, the boat is both comfortable and elegant. Its design complements the natural beauty of Tahoe, and gives it a look quite different from so many of today's yachts.
"People are naturally curious, and will sometimes circle around a few times to get a closer look." But despite the occasional curious onlooker, the most attention the Sierra Rose has received in its three years on the Lake was the day it arrived.
Normally, the trip from Reno to Tahoe Keys would take about ninety minutes. However, since this caravan of oversized loads would require a police escort (17 vehicles in all, covering 5 different jurisdictions) traveling at night on quieter roads proved the least disruptive to traffic and resources. The trip had its share of stress. Stewart and his crew arrived at the California border two hours later than scheduled.
Stewart remembers the moment with a chuckle.
"The CHP was not happy with us. They checked and re-checked every permit."
Nine hours later, after negotiating a few stray tree branches, and appeasing some anxious neighbors, the Sierra Rose arrived at Tahoe Keys, where its components were merged and the yacht launched.
Talk about a dramatic entrance into society.
The Sierra Rose has not been Stewart's only grand accomplishment. His other projects include a house on Hawaii's big island that runs completely on solar power, and a custom carved luxury log cabin home currently being built in Tahoe City. He will live in neither home.
Stewart explains that he's drawn to the process of creating special properties, but not really collecting them. Which explains why after three years in the water, the Sierra Rose is for sale.
The yacht was recently put on the auction block by marketing firm J.P. King. The event drew significant interest, but when the dust settled, the highest bid was ultimately declined by Stewart.
"I am ready to sell, but not desperate either. The right buyer is out there. In the meantime, we'll just keep enjoying it."
Information about the Sierra Rose can be found at
www.sierraroseyacht.com
.
By S.Scowden
JustLuxe Contributor