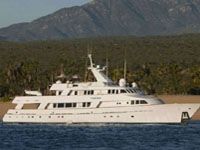 Luxury Yachts For Charter:
Thinking about chartering a yacht on the West Coast? We can't think of too many better ways to vacation. Recently JustLuxe attended the
San Diego YachtFest
and toured quite a few vessels, some for sale and some for charter. By far some of the best ones were those available to procure by the week. Yachts that are available on the West Coast can be chartered to virtually anywhere between Canada to Mexico.
The most impressive yachts that visited San Diego offered a plethora of amenities and features. Measuring in at 156-feet, Piano Bar, manufactured by Picchiotti and brokered by Fraser Yachts is available for charter and can accommodate up to 12 guests. Named for one of its decks that boasts a bar area featuring a grand piano, the boat offers large staterooms and plenty of room to simply stretch out or play. A variety of watercraft are aboard and with multiple entertaining areas, the boat never feels crowded. There are several outside areas to enjoy including a large lounging area up top, replete with a hot tub; a full-size outdoor kitchen is below on a rear deck. Piano Bar is available for charter at the rate of $140,000 per week.
Learn More


Slightly smaller at 122-feet, Shogun, built by Flagship and brokered by Northrop & Johnson is beautiful and elegant. In fact, YachtFest attendees voted this ship "Best in Show." This yacht's name is reflective of its pristine Asian décor. Remodeled in 2008, genuine artifacts fill the ship; centuries-old Japanese armor, helmets and art. Suites share the same theme, light cabinetry throughout is complimented by reds, tan and black. One stateroom that lacks portholes has "window treatments" that replicate daylight flooding the room from behind rice paper shades. Every room is a king suite. The yacht will accommodate up to eight individuals. Living areas are full of plush fabrics and mahogany. Bathrooms are beautifully decorated with hammered brass sinks, granite and brass fixtures. Like Piano Bar, the ship keeps fun watercraft on board, which comes in handy when you feel the urge to hop on a jet ski while anchored in Cabo. Shogun is available for $69,000 per week.
Learn More


Both Shogun and Piano Bar are fully crewed and every detail is looked after, making for a very leisurely vacation. Of course, a chef is provided on both vessels. As a general rule of thumb, you can expect around an additional 15-20% in costs for food and other incidentals.

Read more about San Diego YachtFest


For JustLuxe Courtney Driver

Piano Bar

Piano Bar

Piano Bar

Piano Bar

Piano Bar

Piano Bar

Piano Bar

Piano Bar

Piano Bar

Piano Bar

Shogun

Shogun

Shogun

Shogun

Shogun

Shogun

Shogun

Shogun

Shogun

Shogun

Shogun

Shogun

Shogun

Shogun

Shogun

Shogun

Shogun