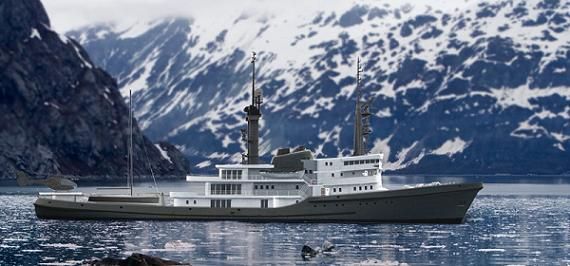 Yachts:
"Design any kind of boat, no holds barred, so long as it's the best of its kind"
That's the philosophy that has been and will continue to underpin the work of young Genoese Stefano Pastrovich, a 37 year old rising star who has been working in motor and sailing yacht design, building and styling for over a decade now. Pastrovich's career got off to a flying start with a prestige collaboration with the Martin Francis Design Studio for which he designed amongst others the MY 57m SenseS.
During the construction of MY SenseS, he met Kush Yachts founder Claus Kush who commissioned him to design and develop the enor¬mous 104 m MY LGB, Le Grand Bleu.
In 2000, Pastrovich was appointed Chief Designer at the Wally style office where he worked on developing the styling of the Wallypowers. "At that time, we designed and then built at the Intermarine yard which constructed military vessels. We developed a unique synergic relationship with the yard that allowed us to produce the highly unu¬sual 118' Wallypower".

In 2005, Pastrovich decided to open his own design studio. However, he continues to work on the styling of Wally's powerboats to this day.
He has, in fact, designed the entire Wallypower range, the 47', 64', 73', 118' and the last 55' Wallypower.

When asked if he prefers designing motor to sailing yachts, Stefano Pastrovich answers without a second's hesitation: "I have no favourites. Sailing-wise though, I've designed the Sly Fun 42' and customised the Shipman 63' and 72'. In that area, the synergy between design and performance is definitely more important. With motoryachts you have to think more about quality of life aboard and making sure the spaces are man-sized".

In 2006, PerAquum, which owns ultra-luxurious resorts and spas in the world's most beautiful locations, commissioned Pastrovich to design a resort-yacht, a 54m with six suites and a spa.
"Form and function have to go hand in hand. You go by function but gradually as the project takes shape you have to give it a raison d'etre".

In 2007 Pastrovich has designed a 85m Motor yacht for a private customer, and during 2008-2009 he has been commissioned to design an 85m and a 60m private yacht for an American owner. Both project are secret. Since the last 2009 he is designing the refit of two large Research vessel for science operations, one 73m and the other is 83m. They will be launched at the end of 2010.

"After many years spent designing luxury speed yachts, Research vessel is today a new great challenge which has enlarged my knowledge towards the fascinating science world. Custom is where the big challenge lies. You have to start from scratch with a unique style every time and redouble your efforts to produce something excellent. But, of course, the satisfaction you get out of it is directly proportional to the effort you put in".

www.pastrovich.com

MY 104 m LGB, Le Grand Bleu

118' Wallypower

63' Shipman - Interiors

MY 114 m LGB Luna - Interior Concept