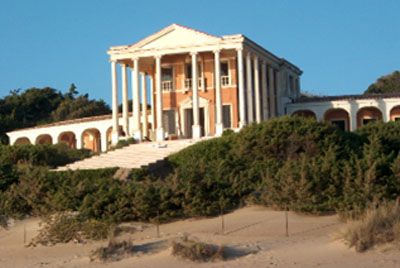 Villa Volpi, an incredible neo-classical palazzo overlooking the Mediterranean thatís featured in
Italian luxury
label Todís new ad campaign, has been listed for sale at $33 million.
The eye-popping property, the setting for a luxe lifestyle of beautiful people and classic Ferraris in the alluring ads, sits on 26 acres including a private sandy beach. The breathtaking estate is the creation of Countess Nathalie Volpi di Misurata, wife of Giuseppe Volpi who founded the Venice Film Festival in 1932.
An eclectic noblewoman with a reputation for impeccable taste and refined elegance, the countess enlisted celebrated Milanese architect Tomaso Buzzi to build the palazzo, which was completed in 1960.
Villa Volpiís seven lavish bedrooms and entertaining spaces have played host to many notable guests over the years, from celebrities to royalty, society and international dignitaries. Additional buildings on the estate include a three-bedroom guest house, a two-bedroom cottage and stables.
"This home fosters an incredibly peaceful and glamorous way of life," notes Clarice Pecori Giraldi of
Christie's International Real Estate
, "bringing together a unique location in Italy ó where waterfront properties of this scale are extremely rare ó with the incredible sophistication of classical architecture interpreted at the highest standards of quality."