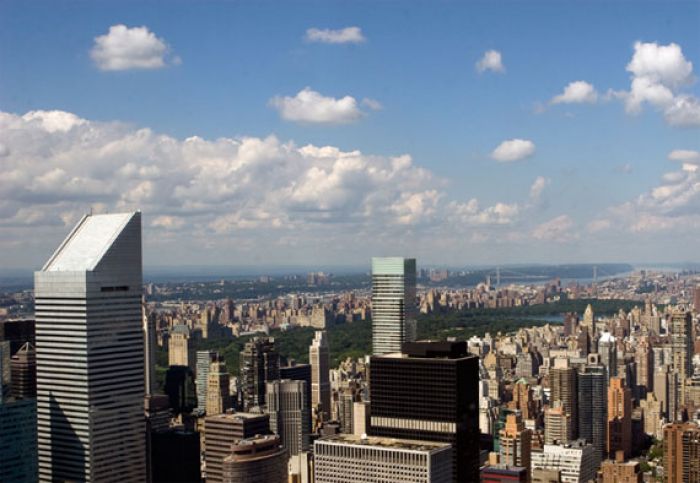 Photo Courtesy of Trump World Tower
This
penthouse residence
on the 88th floor of the Trump World Tower at United Nations Plaza has been on the market since September 2010. I wondered why and contacted the leasing agent for some insight to the situation. My questions went unanswered. It really is a lot easier to get quotes and interviews when you ask innocuous questions instead of serious ones. It was readily apparent that I was not dealing with one of Mr. Trump's apprentices.
What is not to like in this cavernous penthouse with 16 feet floor-to-ceiling windows throughout and more than 5,400 square feet of living space? There are four bedrooms and five-plus bathrooms as well as a chef's eat-in kitchen, a formal dining room, a media room and a living room. The posh single-family residence also brims technologically with an electronic lighting and shading setup,
an IP phone network and an audio/video system.
Including the $20 million penthouse, a total of 15 condominiums currently are available in the Trump World Tower at United Nations Plaza. The price range on those other 14 luxury units goes from $699,000 up to $6.6 million. The largest residence offers nearly 2,900 square feet of living space; the smallest is around 600 square feet. There is a unit on the 18th floor that is $40,000 less than a similar unit on the 12th floor.
The amenity package for both owners and residents is on par with the highest rated hotels worldwide. There is a health club onsite and a 60-foot indoor swimming pool. A house phone connects all residents to a concierge desk. Each of the residences also is pre-wired for telephone service, high-speed Internet access and a DirecTV hookup. There is even a garage for parking and valet service.
Is the extraordinarily luxurious $20 million penthouse a bellwether that is being monitored by both industry pundits and real estate investors? Is it priced too high? What about the remaining units in the tower that are on the market? Less than two weeks ago, 17 condominiums were listed for sale. So, there now are 15, which is 12 percent fewer units available than previously; that is progress.
If prices being too high were not the issue, would a better TV package make a difference? I have never watched The Apprentice, but I am going to keep my eyes on the Trump World Tower at United Nations Plaza. It may not be as entertaining as his TV series, but it is reality.
For more information, visit trumpworldtower.com.