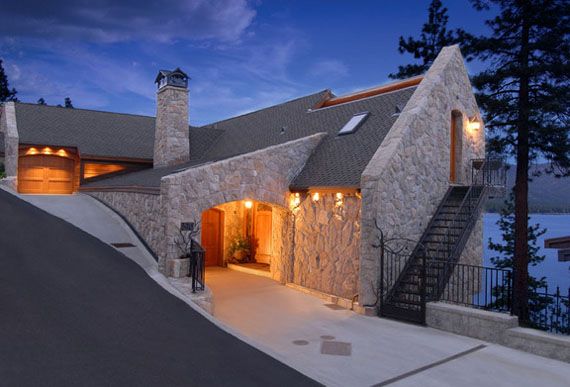 Photo Courtesy of Intero Real Estate
We recently visited Lake Tahoe and reported that luxury
real estate in Nevada's Crystal Bay
-Incline Village area has been selling measurably better from 2010 forward.
There were more transactions at higher prices through the first quarter of 2011 than the previous two years combined. While it is questionable whether this is an indication that the entire luxury-property market is on the rise, it speaks volumes for the salability of premium properties here. That is why we had to go back and have a look-see at one of the highest of high-end lakefront properties in Crystal Bay.
Casa del Lago Azul, or House of the Blue Lake, is a seven-bedroom, five-plus bathroom single-family residence that sets on one-half acre with 75 feet of lake frontage. The estate, which has a picturesque view of the lake from every bedroom, has around 6,600 square feet of living space on three levels. There is a media room, a gourmet kitchen, a wine cellar, a complete fitness center, and a spa.
The fitness center, which is on the entire third level, also features a full bathroom and an expansive deck made of stone. A combination of exotic woods and stones on the floors and the walls enhance the aesthetics tenfold. It is the intricate details that make this abode so special. There are four fireplaces, including a mason-built kiva fireplace in the master suite. It also has an attached guesthouse and a three-car garage.
The exterior includes a long stairway that leads to a boat dock with a pier and two buoys. The picturesque dock, which stretches out over the granite-boulder shoreline, is an artistic inspiration in the making. There are landscaped gardens, a terrace, and plentiful space for entertaining and enjoying the great outdoors. The new owner of Casa del Lago Azul will have full
access to all of the Incline Village amenities, including the private beaches.
Casa del Lago Azul has been on the market since August 2008, according to listing agents, Janet O'Donnell and Val Davisson, at Intero Real Estate Services. The property, originally priced at $13.5 million, is for sale at $11 million. For more information, visit
InclineTahoeHomes.com
.