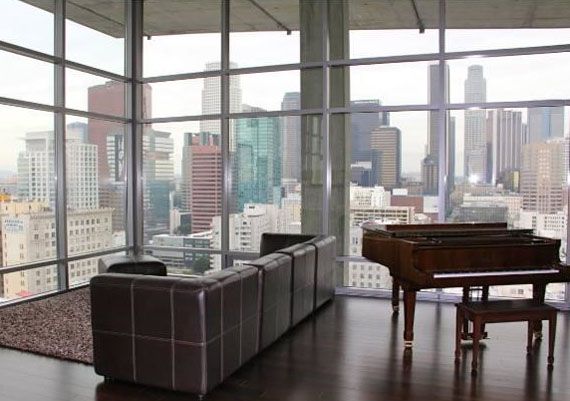 Photo Courtesy of Kerry Marsico/Keller Williams Realty
This 3,400-square-foot penthouse at the Luma in Downtown
Los Angeles
is an abode that is fodder for a dream house. Plenty of space and various viewing angles present potential vista moments with every turn of the head. Downtown L.A. is a relatively new location for upscale real estate in Southern California. Vertical communities, such as the Luma development, are among the newer property developments in the city.
Views from the penthouse loft include the Hollywood Hills, the San Gabriel Mountains and the waters of the Pacific Ocean. A walkthrough of the top-floor residence offers up these and surrounding sights. A wraparound balcony provides outdoor access from most of the rooms of this eclectic luxury domicile.
There are two entrances to this three-bedroom, four-bathroom loft, which is located at 1100 Hope Street in the city of Los Angeles. Floor-to-ceiling windows and hardwood floors throughout and modern amenities make the single-family residence visually appealing and functional. In addition to the open and airy living space, this loft is filled with top-grade appliances and 21st-century wiring throughout.
While road conditions from day to day adjust the value of having great proximity to many of the favorite locations and venues in Southern California, there is great potential for convenient access to most of the surrounding areas when the freeways are friendly.
Contact listing agent Kerry Marsico at
Keller Williams Realty Los Feliz
, for more information on the property.