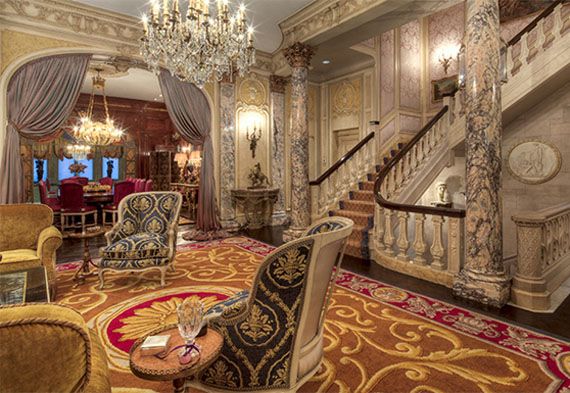 This
Manhattan
townhouse is one of the architecturally phenomenal structures that made Charles Pierrepont Henry Gilbert a legendary designer of townhouses and mansions of his era. Retail mogul Frank Woolworth, the founder of the F.W. Woolworth, was the first resident of this seven-level, single-family residence. 
Many of the C.H.P. Gilbert mansions of the era are French-Gothic-styled. The Woolworth townhouse, which was built in 1916, is flanked by two additional Gilbert-designed townhouses that were built for the families of Woolworth's daughters, Helena and Jessie. All three of the townhouses have a limestone façade.
Mr. Woolworth's former residence is 35 feet wide and has 18,000 square feet of living space. The formal dining room is large enough to seat more than 50 guests. There are eight wood-burning fireplaces throughout, and an elevator that stops on all seven floors. The parlor floor features 14-foot floor-to ceiling windows.
There is a whole-floor-wide library on the third floor and a gym, two bedrooms, and two full baths on the fifth floor. There is a private office on the sixth floor. The seventh floor has two bedrooms and a kitchen suite for the staff.
It is reported to be the only mansion available in Manhattan that has been "fully renovated in a traditional pre-war style," according to Paula Del Nunzio, the senior VP and managing director at Brown Harris Stevens, the brokerage representing the East 80th Street luxury property. The Gilbert-designed, Upper Eastside townhouse also is available to rent at $165,000 monthly. 
Other noteworthy buildings in New York designed by C.P.H. Gilbert include the Harry F. Sinclair House (now the Ukrainian Institute); the Felix M. Warburg House (now the Jewish Museum); and the Morton F. Plant House (now Cartier). Visit
BHSUSA.com
to see more.