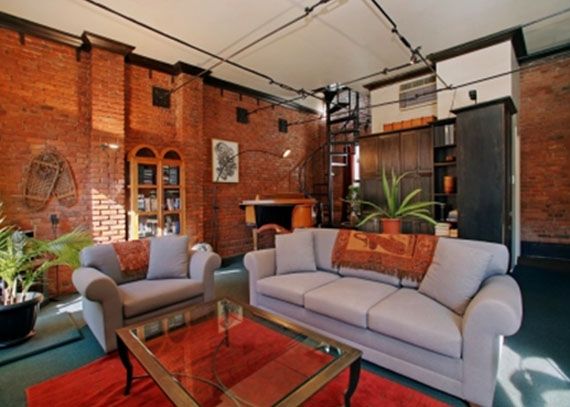 Photo Courtesy of CitiHabitats
This TriBeCa townhouse is another example of the burgeoning high-end rental market that JustLuxe reported on earlier this year in the
NYC real estate market
. The entire five-floor building is available to lease for $35,000 per month. 
The eclectic five-floor, mixed-use property receives high marks on both luxury living and lifestyle management, especially for the businessperson in search of the ultimate home-based business setting. The first floor of the structure is a fully equipped office with seven separate workstations. The owner of the building for rent is an attorney who runs his law office on the first floor.
The remaining floor space of the 4,500-square-foot building is a four-floor, furnished townhouse that features a rooftop with a conservatory, a greenhouse, and a gardening area. There also is a gym room and a full-floor gourmet kitchen and an elaborate fifth-floor living room. The southward-facing dwelling contains 16 large windows, 10-to 12-foot ceilings, exposed beams and a brick-wall interior throughout.  
"The New York City rental market, and the luxury rental market, in particular, have been on fire over the last 12 months. Rents, in general, are up," said Gary Malin, president of CitiHabitats. Mr. Malin further added that the average
Manhattan
apartment now rents for approximately $3,350 per month, which is an eight percent increase from the year-over-year rates of 2010. He also pointed out that there has been a 25 percent increase in rental properties over $7,000 per month during the same period. 
With approximately 75 percent of CitiHabitat's housing stock in Manhattan being rental properties, Mr. Malin also pointed out the increased demand for rental properties has put rental apartments on par with any of the luxury condos on the market in regard to size and amenities offered. 
What is the face or the take on this unprecedented increase in high-end rentals in Manhattan from an industry professional's perspective? "In some cases, it is people who still feel uneasy about the sales market. Renting gives them a chance to 'wait and see' what develops in the sales arena. Other times is it actors or other celebrities who are in town to shoot a film, or are involved in another project that requires them to be in the city for an extended period of time," said Malin. 
"Other high-net-worth individuals prefer to invest their assets in something other than real estate, or perhaps they own homes in other parts of the world. They simply enjoy the ease and commitment-free lifestyle renting allows them."
For more information on this property listing from CitiHabitats' Elite Rentals division, contact the listing agent, Mr. Keith Knight, at kknight@citi-habitats.com or visit the company's website at
Citi-Habitats.com
.