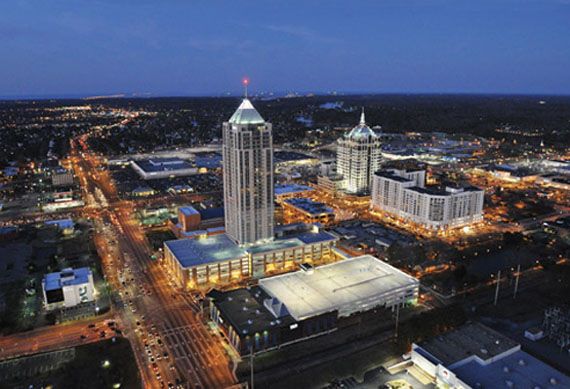 Photo Courtesy of Westin Virginia Beach Town Center
The remaining 16 condominiums at The Residences at the
Westin Virginia Beach Town Center
will be auctioned this November, according to property development company Armada Hoffler. Real estate auctioneers Accelerated Marketing Partners will oversee the auctioning of the luxury properties. The 16 single-family residences, including three penthouses, eight two-bedroom and five one-bedroom units, are in the tallest tower in the state of Virginia.
One-bedroom floor plans range from 780 up to 1,455 square feet; and the two-bedroom condos have 1,607 to 2,458 square feet of living space. One of the penthouses, which range in space from 2,207 up to 2,739 square feet, had a most recent asking price of $1.7 million. The minimum bid amount for the penthouse units is $640,000 to $795,000. 
With 103 of the 119 units already sold, why an auction to sell the remaining 16 units available on the market? "After much consideration, we have decided that a developer close-out sale is the best way to maximize the value of the remaining inventory as well as the investment of the existing homeowners," said Lou Haddad, CEO and president of Armada Hoffler.
"The Residences at the Westin Virginia Beach Town Center is an integral part of the Virginia Beach Town Center, which continues to thrive as a major destination for cultural, entertainment, shopping and dining experiences in the Mid-Atlantic region. When sales began in 2007 for The Residences at the Westin Virginia Beach Town Center, we quickly sold out more than two-thirds of the homes."
The mixed-use luxury property is located on the top 21 floors of Virginia's tallest building, which rises more than 500 feet over the Virginia Beach Town Center. There are 119 deluxe condominiums in the building. Owners of condominiums have full access to the resort's amenities. The auction takes place at the Westin Virginia Beach Town Center on November 13, 2011. For more information, visit
TownCenterAuction.com
.