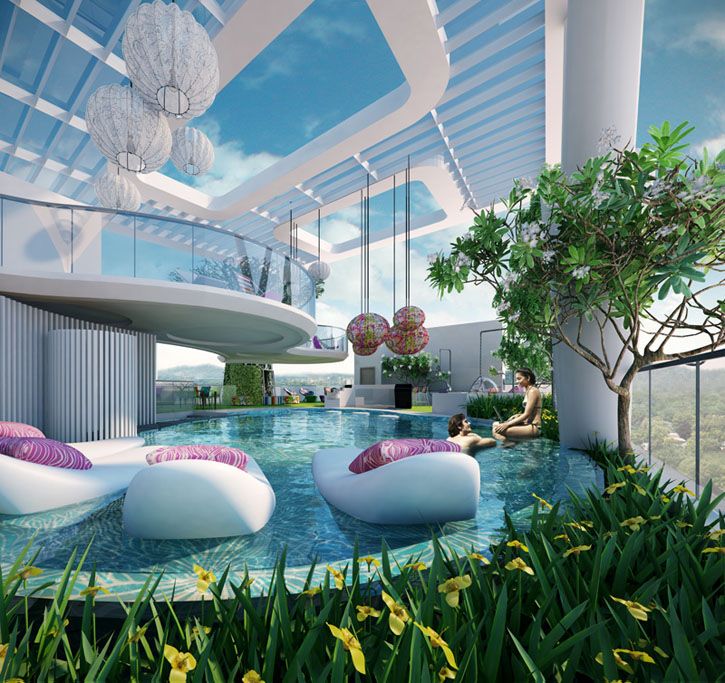 Photo Courtesy of MISSONIHOME
The first residential building in the world to bear the
MISSONIHOME
moniker, the interior design arm of the famed Italian fashion brand, has just been announced for Manila in 2015. The 52-story Acqua Livingstone will be the fourth of six condominium towers in the $315.9 million Acqua Private Residences project, developed in the Philippine capital by Century Properties Group, Inc. The tower will be the ultimate expression of Missoni's provocative interior design aesthetic, a natural extension of the first two Missoni-branded hotels located in Edinburgh, Scotland and Kuwait.
Acqua Livingstone will feature 645 units which are now being offered at pre-selling prices of approximately $82,000 to $613,000 for the first tranche. Unit sizes range from about 300 square feet to 1,500 square feet with one to three bedrooms. A private collection of special spaces called Acqua Privé will include Townhouse, Sky Garden, Private Garden, and Penthouse units. Anchoring the development will be a multi-level recreation area called The Canopy, located at the building's skydeck.
The Canopy's lower level will house function rooms, a business center, an indoor and outdoor gym, Jacuzzi, a library and spa. The upper level is a social space dedicated to interaction and entertainment with an amphitheatre, lounge, DJ booth and dance floor, pool with swim-up bar, and open-air barbecue facilities. Residents will also have access to all Acqua Private Residences amenities. The project could provide a blueprint for further MISSONIHOME developments in the U.S.
"MISSONIHOME is known for creating its own style that reflects a celebration of life," notes Vittorio Missoni, Marketing Director and shareholder of Missoni S.p.A. "Our brand is an experience of happiness, excitement, beauty, creativity, style and elegance. We are inspired by the seasons of nature and we play with color because life is more beautiful with color." Missoni, founded in 1953 as a knitwear label in Italy by Ottavio and Rosita Missoni, grew into a fashion empire run by three generations of the Missoni family. Visit
Acqua-Livingstone.com
to learn more.
Courtesy MISSONIHOME
Courtesy MISSONIHOME
Courtesy MISSONIHOME