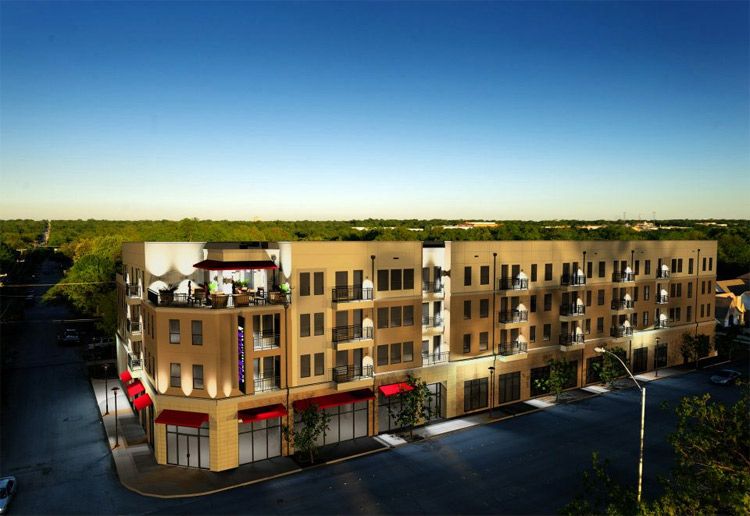 Photo Courtesy of Fountain Residential
A new building being raised for student housing, near the University of North Texas campus, is being cited as the most luxurious student housing in the Denton market by its development team. A 139-unit building with accommodations for 427 residents will be available for the start of the university's fall 2013 semester. Fountain Residential Partners and Crosswind Development Partners are the creative teams behind 33 North, the five-story development that will be adjacent to the University of North Texas campus.
Fountain Residential Partners is also involved with another student housing project in Texas. The LoftVue at Texas Christian University, a 147-bed, loft-style luxury accommodation begins construction in July of 2012. The building, which is being constructed by Centerpoint Builders, is already 100 percent pre-leased. The 33 North apartments for students at the University of North Texas will offer one, two, three, and four-bedroom apartments.
The interiors will include queen sized pillow-top beds, granite countertops, stainless-steel appliances, simulated wood flooring, and a furnishings package that includes a 50" flat-screen television in the living area. A clubhouse, a study room, a theater, a fitness center, an infinity pool and an outdoor deck are amenities of the soon-to-open building.
"By providing a higher level of finishes, amenities, and services at a competitive market price, we expect 33 North to reset the bar on student living at the University of North Texas, as we have in the [Texas Christian University] market," said Brent Little, president of Fountain Residential Partners. President Little's firm is among the most active property developers in the Dallas-Fort Worth area with two projects underway.
The company also has other luxury student housing projects under construction near several major schools, which include Oregon State University, the University of Minneapolis, Sacramento State University, and the University of Houston.
For more information, visit
FountainResidential.com
.