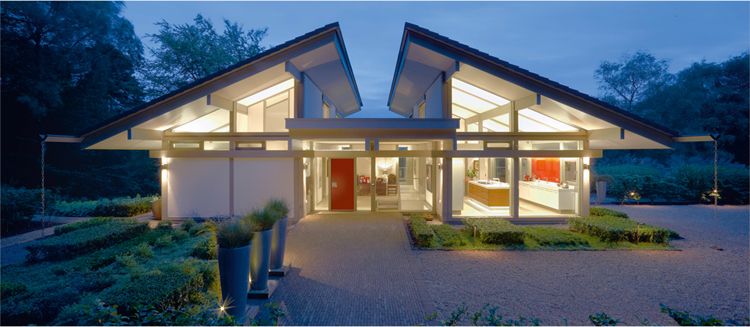 It's common to want a
luxury home
that stands out from the others on your street, and for those that want that little something extra to make your neighbors green with envy, check out Huf Haus. The German company offers neat contemporary homes that are sustainable and environmentally friendly. They never use a standard blueprint plan so you can rest assured knowing that your home will be custom-built according to your personal whims and desires.
In glancing at Huf Haus designs, one will immediately notice the use of wood and glass, helping to create vast areas that open the home up to its surroundings. The wood frames are visible from inside and out, giving each residence a neat deconstructed look by highlighting what is usually hidden under plaster. The roofing design tends to be sharp and angular, giving the structures an interesting vintage appearance that when combined with the glass "walls," give the entire home a very modern look.
Huf prides themselves on being eco-friendly, saying, "The more we learn to appreciate the importance of Nature, the more we feel our responsibility to protect it." They feel that having such a deep connection with the environment helps them to better connect with their customers.
Their designs blend together some of the most advanced eco-friendly technology, like photo voltaic panels that work to convert solar energy into electrical energy and improve the home's energy balance. They use an air-to-water heat pump that uses natural heat in the air, compressing it to raise the temperature and then sending it to the heating system for the home. Under floor heating also helps heat the building evenly.
All of the glass surrounding the home in the forms of windows work to bring in natural light, taking pressure off electricity needs. They are specially glazed to be thermally insulted to protect from temperatures, as well as external noise.
For more information visit
Huf-Hause.com