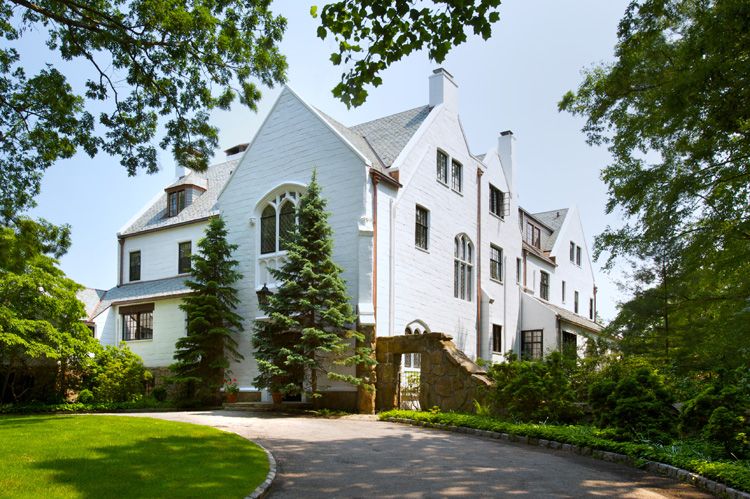 Photo Courtesy of Halstead Property
If you want to live in New York City without having to sacrifice space, you may want to consider living only an hour from Manhattan where you can find 72 private acres of
luxurious real estate
at 91 Camp Comfort Road in Tuxedo Park. At first glance the large home will remind you of a gothic manor resting atop a hill. Where most people think dark and gloomy when they think gothic, this home is a bright, airy building surrounding by trees and overlooking Tuxedo Lake. With ten bedrooms, seven and a half bathrooms, this home should please just about anyone.
Built by the famous architects Walker and Gilette, the manor house is within a gated community and sits atop a high hill. The three stories feature a great floor plan that makes good use of the home's unique details, like the 12-foot-high ceiling on the main floor and the living room's paneled walls. Also within the living room are dentil crown molding and a wood burning fireplace (you can actually find seven of these within the home). There's a formal dining room, a large bright kitchen with a preparation room, and many French doors that lead out to the dining porch framed by white arches.
Once on the second floor you can find six bedrooms and a master suite, as well as five bathrooms and four fireplaces (each with a period mantle). The third floor has three multi-room suites, including an additional kitchen, which would make it the perfect situation for guests or even a live-in staff.
According to Halstead Property, the home was originally built for financer Charles Mitchell. During World War II the property was used as a peaceful refuge for 18 children brought over from England to escape the war. The 72 acres also feature some architectural royalty considering the original formal gardens were designed by the incredibly famous Olmsted Landscape Architects, known for their design work of Central Park.
If you're interested in building another home on the property, Halstead assures that, while the land is protected by conversation easements, it is sub-dividable and four additional houses can be built on it.
The price for the manor on 91 Camp Comfort Road is $5,500,00 and comes with a garage.
If interested in the property, contact Chris Pomeroy (Senior Vice President at Halstead Property in Manhattan) at (212) 381-2531 or cpomeroy@halstead.com
For more information visit
Halstead.com
.