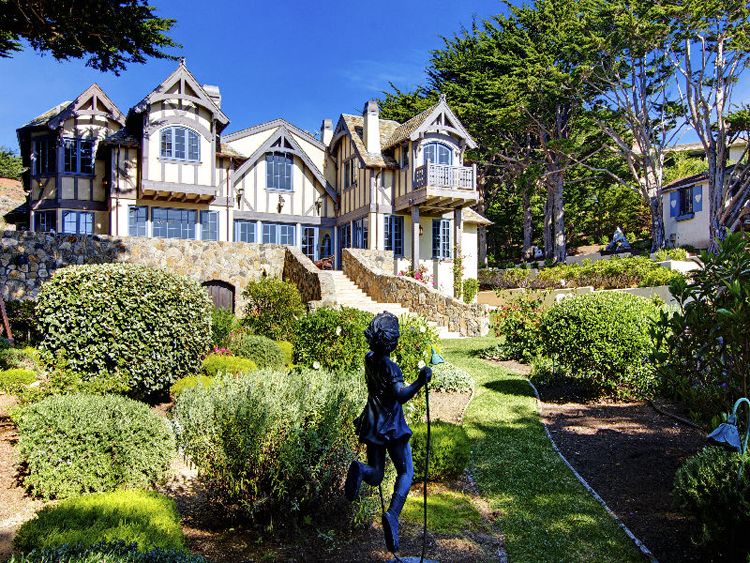 Photo Courtesy of Sotheby's Realty
If you've ever browsed
luxury real estate
listings you may have noticed that sometimes the offering doesn't seem to match the steep price tag. Maybe the number is because of the area or because a celebrity lived in it before, but there are definitely properties that match the price and we think the Maison de Tranquillite in Carmel, CA is one of those properties.
The oceanfront
luxury estate
of Maison de Tranquillite sits on a private 1.78 acre lot and features a Tudor revival design. With unhindered views of the Pacific Ocean, this charming home looks like it was lifted directly out of Disney's "Beauty and the Beast." The sprawling estate has 16 rooms, six bedrooms, six full bathrooms, and interior space of round 8,207 square-feet. Inside one can find "Jacobean-era carved woodwork, intricate stone work, 26 tile murals, and hand carved beams, ambient lighting, impressive chandeliers, and unique basket weaved slate roof." The rooms feature high ceilings, fireplaces, archways, and chandeliers. We especially love the wine cellar, game room, and open second floor that looks down on the ground level.
While the inside is lovely, it's the property that is truly amazing. Cypress trees surround the home, giving way to English gardens, whimsical statues, and calming waterfalls and ponds. With an ocean view, it wouldn't be right to not have beach access, and luckily Maison de Tranquillite does. A 280-foot shoreline of private beach is just a short walk down a meandering path, giving anyone ample opportunity to relax on the sand.
The listing is being handled by Nicole Truszkowski on behalf of Sotheby's Realty, with the price set at $18,500,00.
For more information on the property visit
Sotheby'sHomes.com
.