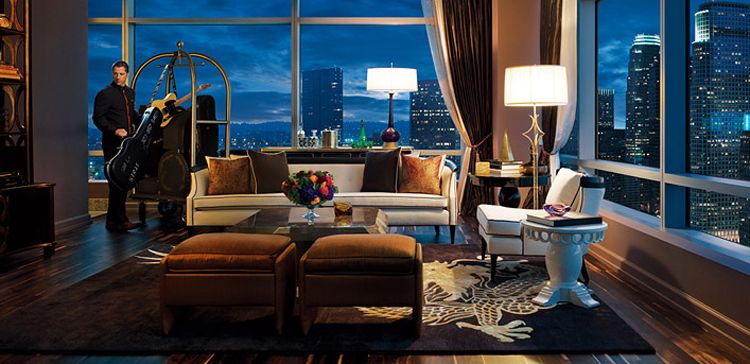 Photo Courtesy of All Access Living
The burgeoning business district of downtown Los Angeles has experienced a significant influx dating back to the opening of the Staples Center and several other hubs of entertainment centers. The area once known for not much beyond a business district, has become a major area of entertainment venues and new high-rise
luxury condominiums
. It features the Nokia Plaza, the Walt Disney Concert Hall, the Dorothy Chandler Pavilion, the Mark Taper Forum, the Museum of Contemporary Art (as well as other art galleries), and fine restaurants in the revitalized cosmopolitan hot spot.
The Ritz-Carlton Residences at L.A. Live is the newest high-rise community for the affluent in the upwardly evolving downtown Los Angeles. While being wealthy is not a requisite to buying in, the residences at L.A. Live begin at $850,000.
The exclusive 224 residences are located on floors 27 to 52 of the Ritz-Carlton Hotel building. There are 12 penthouses and 17 floor plans for one-, two- and three-bedroom layouts. In general, a one-bedroom condo ranges from 960 to 1,630 square feet; two-bedroom selections are 1,660 to 2,160 square feet; and three-bedroom options are approximately 2,240 to 4,300 square feet.
The amenities extended to residents include a spa, a pool and fitness center, Wolfgang Puck's newest restaurant, and the staff of The Ritz available around the clock. The spa is a 7,000 square-foot facility and the pool area, on the 26th floor, features private cabanas and offers a unique view of the city and the surrounding mountainous landscape. Residents also receive VIP treatment through a program called all Access Living.
The Ritz-Carlton Residences at L.A. Live also has its fair share of residents who are celebrities and public figures. However, with discretion being among the most valued amenity at an establishment like The Ritz-Carlton, no further details are available. However, a visit to the hotel's award-winning rooftop Blue Bar may result in several sightings of all your favorite stars.
For more information on The Ritz-Carlton Residences at L.A. Live, visit
AllAccessLiving.com
.