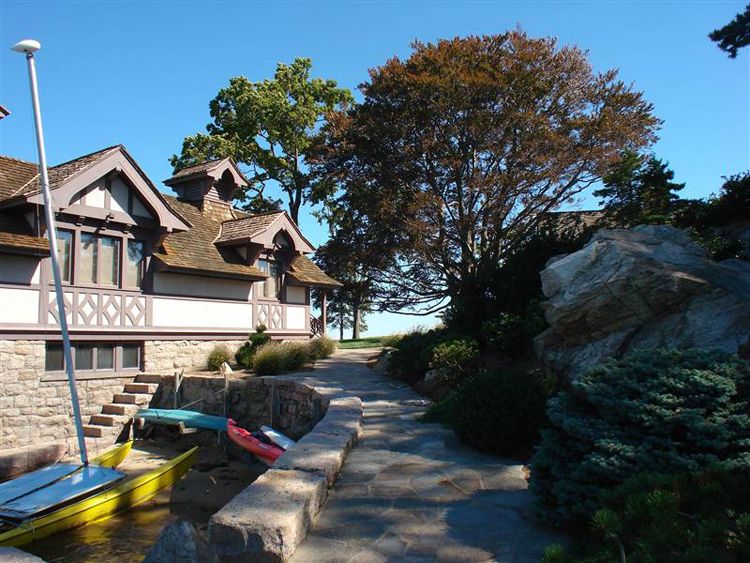 Photo Courtesy of Sothebyís International Realty
Itís time to stop your
luxury house
hunting and start your island searching. Your quest will probably bring you somewhere near Rowayton, CT, only an hour from midtown New York, and lucky you, thatís exactly where Tavern Island is available for the first time in 30 years for purchase. For almost $13 million you can own 3.5 acres of private land with a home featuring six bedrooms, four full baths and three half baths. The home was built in 1900 in the Tudor style, making it look a little like it materialized out of a fairy tale.
It includes several private beaches, due to the fact that itís on a private island, to ensure, no doubt that the residents can soak up the sun without having to worry about pesky tourists blocking the rays with their umbrellas. If the sandy beach isn't your scene, the pool is standard size and right next to the water, giving the illusion that you are swimming in the ocean - perhaps if a big wave hits, you will be. Thereís also a private pier for docking and a protective seawall, if you like the ocean but donít actually want to get wet.
The residence also includes a caretakerís cottage so that you and your butler can live in luxury, together, yet separate. While you are enjoying your separation from that needy man whoís always asking if youíll take your tea, you can admire the unobstructed view of the ocean and the adjacent marina in peace. The grounds also include a boathouse with a guest house, in case your six bedrooms fill up and you need somewhere to put all those extra friends.