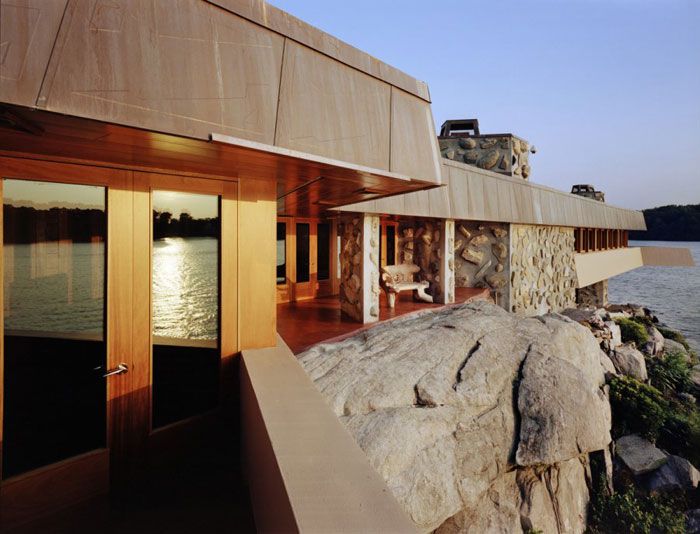 Photo Courtesy of AHAlife
When world renowned and "greatest American architect of all time", as recognized by the American Institute of Architects, Frank Lloyd Wright set out designing what is now known as the Massaro house on the heart shaped Petra Island, he told the then owner of Fallingwater (arguably the most iconic of his
luxury homes
), "When I finish the house on the island, it will surpass your Fallingwater."
Perhaps this would have been the case were Wright able to see out the completion of the home he envisioned. Rather, the commission that Wright received was far less than the lofty budget he had in mind for the project, therefore, only the 1,200-square-foot cottage located on the island was built from start to finish by Mr. Wright himself.
However, the story for this potential Wright home doesn't end there. In 1996, Petra Island was purchased by Joseph Massaro, and after seeing the original Wright drawings for the house located on the multi-acre island less than fifty miles from Manhattan, he found it quite necessary to complete this Frank Lloyd Wright masterpiece.
Ultimately constructed by architect and Wright historian, Thomas A. Heinz, off of the incomplete Frank Lloyd Wright plans, this house clearly goes in line with Wrights vision of modern designs that incorporate the natural surroundings.
Whether you consider this a Frank Lloyd Wright home (and the Frank Lloyd Wright Foundation certainly does not) you cannot deny its splendor. Just 47 miles from New York City and surrounded by 200-year-old beach trees this 5000-square-foot residence includes decks totaling an additional 2,000-square-feet, all with stunning views of the surrounding landscape.
Windows line the entire living room, which extends out over the edge of the island accentuating the natural beauty of the lake, and the foyer features a 12-foot-high by 60-foot-wide rock sprawling through the hallway. Natural rocks are embedded in many of the walls of this home and all of the woodwork is custom-built to Wright's specifications from African mahogany.
This stunning island retreat is currently listed on the market for $19,900,000 and is furnished with Wright designed pieces (as the architect intended) so that regardless of the official title, the future inhabitants are sure to experience that undeniable Wright feel.