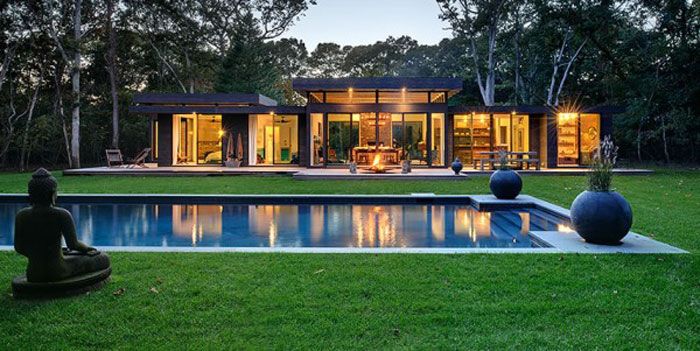 Photo Courtesy of Bates Masi Architects
When you combine the creative talents of house-music DJ and producer to the stars, Victor Calderone, and his interior designer wife, Athena Calderone, you are bound to get a
luxury home
that is truly inspired. This sweet haven located in charming Amagansett, New York is just that, boasting an impressive 2,400 square feet and the killer taste of this stylish couple.
Used as a weekend retreat from their city apartment the clients enlisted the help of Sag Harbor architect Paul Masi of Bates Masi & Architects for the renovation, while utilizing Athena's creative eye for interior design through the use of her design company, Rawlins Calderone Design. Completely reduced down to the bare framework, the two were able to create a home that was truly theirs.
One interesting feature is the natural ropes that are woven through a digitally fabricated framework in the ceiling. Light penetrates through the crossed weave of the rope, wich also acts as an acoustic baffle that absorbs background noise while allowing music from the ceiling speakers to be heard (a very important attribute for the DJ client). Not only aesthetically pleasing, this rope ceiling was also used structurally to support several items within the house, including a large steel framed mirror in the master bathroom and a large chandelier in the dining room.
With the Hampton countryside as their backdrop, Athena and Victor opted for dark stained cedar siding that wraps around all of the exterior facades and surrounds the large windows and doors of the house. The interior walls and cabinetry were also resurfaced in reclaimed barn wood, giving these tenants a luxurious and peaceful escape from the hustle and bustle of city life.
Another neat detail is that since they kept the skeleton of the house intact, they used conventional materials in the design to unify old and new, creating a unique piece of luxury real estate.