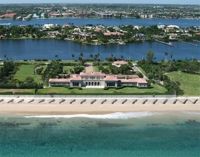 Luxury Real Estate:
The Villa Venezio in Manalapan has recently been put on the market by Veronica Hearst, the daughter-in-law to the illustrious newspaper tycoon, William Randolph Hearst. From kidnappings to the epic release of Citizen Kane, the Hearst family has been a household name, notorious for making headlines. Veronica Hearst is the widow of Randolph "Randy" Apperson Hearst, son to William Randolph Hearst. For $27 million, you could own a coveted piece of oceanfront property (not to mention a little history).
Twenty seven million dollars doesn't seem like too bad of a deal when you take into account the mansion's fiscal history. The South Palm Beach estate, located at 1100 South Ocean Blvd., was allegedly purchased for nearly $30 million by Randy and Veronica back in 2000. The property was purchased from shopping-mall magnate and Indiana Pacers co-owner Melvin Simon just a few months before Randy suffered a fatal stroke at age 85.
The 12-bedroom stone mansion is a legend in the Palm Beach area. And though it may pale in comparison to the renowned Hearst castle, located in California, the Villa Venezio has all the comforts any Hearst would expect. The estate was originally built in 1929 for the grandson of Cornelius Vanderbilt and was designed by Maurice Fatio, an acclaimed architect of his time. It was named "Eastover" when the Vanderbilt family built it, and in 2002, it was added to the National Register of Historic Places under that name. The estate sits on 3.5 acres in Manalapan, just south of Palm Beach, and features a stellar 350-foot view of the Atlantic. Other amenities include a separate guesthouse, a dock, and a six-car garage.
It has been rumored among locals that the estate has been quietly on the market since 2003, but Mrs. Hearst has denied such claims. However, she did sell a 1.6 acre parcel of the property to RGF Holding Corp for more than $6 million in December 2004. This once-in-a lifetime opportunity is listed by Geoffrey Thomas of the Corcoran Group.
For LxM Christina Stewart
Property:
Villa Venezio
Location:
Manalapan, FL
Realtor:
Geoffrey Thomas, Corcoran Group
Web site:
www.corcoran.com
Contact:
(561) 252-3860