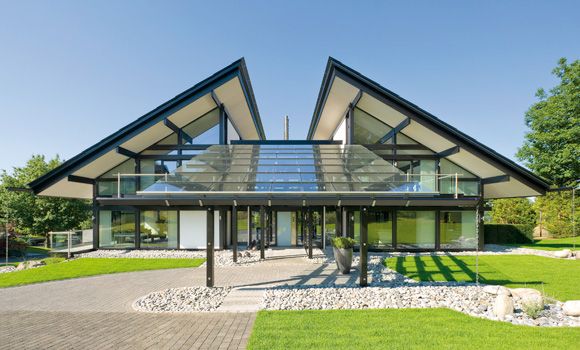 Luxury Real Estate: The next big trend in luxury real estate isn't all about custom-built glamour. Instead, luxury real estate has come to be about quick and easy assembly construction, inspired by the cookie cutter modular homes that role down highways.
No longer dreary and depressing, luxury assembly homes make building your custom dream home quicker and more affordable than traditional luxury housing counterparts, which can take years to build and multi-millions of dollars.
By contrast, a luxury assembly home can be finished in months; from the time it leaves the factory, or factories to the time it arrives. Custom, prefabricated homes are quickly becoming the preferred option for families that don't want to wait.

Modular homes are constructed in the same way as traditional homes, but because they have many of the parts pre-assembled, they take a fraction of the time to build, once they arrive onsite. In addition, they use stronger materials, giving the home maximum strength and durability.

Pre-fabricated homes must conform to the building standards in the area where they are constructed. Once assembled on the site, final touches like finish carpentry, siding, front porches, utility hookups, roof shingling and garages can be complete within 2-3 months.

While many young families are turning to prefab homes for their first entry into the luxury real estate market, many others have found them to be an excellent solution for second vacation homes.

Overseas, many have already discovered the joy of prefab homes, which began during the last century, beginning with Bahaus in the 1930s. Now, there has been a resurgence in popularity as many have found custom prefab homes a welcome alternative to expensive custom-designed traditional homes. Avi Friedman, an architecture professor at McGill University estimates that the amount of prefab homes will jump from the current 5 to 10 percent to 35 percent in the next 10 years.

As an additional bonus, many prefab homes are designed green, but without sacrificing style. HUF HAUS builds homes one at a time at its plant in Germany, before shipping them all over the world. Each HUF HAUS is built with engineers skilled in state-of-the-art glazing techniques, next generation interior design, spectacular open spaces, and green heating/cooling systems.

HUF HAUS homes are self-contained ecosystems, designed to operate "off the grid," leaving no carbon footprint, thanks to pitched roof of solar panels, glass walls with argon gas and state-of-the-art glazing, heat exchangers, and wood from sustainable forests.

More than 40 years of experience in design has made HUF HAUS a leader in prefab homes, with a signature wood/glass post-and-beam construction that gives homeowners a feeling of luxury, spaciousness and great views. The style has opened up the walls found in traditional homes to create an open floor plan, based on the Bahaus tradition.