LuxeSpotlight
LuxeSpotlight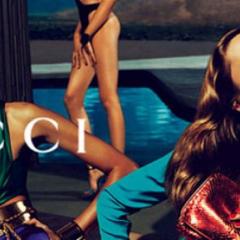 Hayari Couture Parisian Evening & Wedding Gowns
"The Story of a Paris Origina:" Nabil Hayari, a Haute Couture Designer who brings your fashion dreams to life...
When you arrive at the Atelier of couture designer, Nabil Hayari, you are taken in by the spectacular view of Paris from atop his balcony, at 3 rue Matignon, a famous address frequented by many notables around the world in fashion and film.
Follow Hayari Couture
The unique location houses his showroom where you can be measured for your haute couture bridal gown or evening wear design he creates exclusively for you. Watching him fit a pattern on a client, you see that each pin, each measurment is done with a technical expertise that makes him one of the few true "Haute Couture" designers in Paris. He has been certified by the French government, (an honor reserved for the very few).
Did you Know:
Each gown is made of original french materials, like silk, lace and embroidery and is "one of a kind" made in his atelier. His bridal gowns are dream-like creations and the evening wear blends elegance with the sexy feminine details such as side slits to show off the leg, and his signature form fitting structures designed to create the illusive feminine shape beneath.
Monsieur Hayari's gowns are designed to make you feel wonderful, elegant, stately, sexy and work for a variety of occaisions from your wedding to that special evening affair. Many women who could order anything in the world, come to see Monsieur Hayari; they know that when they arrive on that red carpet, wedding or event, they're wearing a true original that no one else will have. Now that's a luxury!
Hayari's
clientele are international women of wealth and prestige yearning to be sexy and glamorous for a special occasion, or for their very own wedding. Women from Russia, China, and the U.S. call upon Hayari with a request to transform them into a princess for a day.
"The true luxury of Haute Couture, is not just the quality of the creation, but the way it makes you feel when you are wearing it."
- Nabil Hayari
Successfully uploaded 570HayariCouture2012_page34_image2.jpg d 570HayariCouture2012_page34_image2.jpg Successfully uploaded hayari_showroom.jpg Successfully uploaded hayari_green.jpg