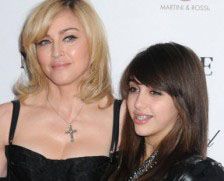 Fashion & Style: Madonna has officially been confirmed as designing a line of clothing for Macy's. The inspiration for the collection is her daughter Lourdes, who has talked about wanting to be a fashion director when she grows up and may have a hand in the process.

The Macy's collection, "Material Girl," is due out this fall and is targeted at 13-25 year olds with a price range of up to $40. The collection will include clothing, shoes, handbags and accessories.

The pop star Queen is set to be one busy designing woman. In addition to the Material Girl, she is also getting ready to collaborate on a collection of sunglasses with Italian fashion powerhouse Dolce & Gabbana.

The eyewear line, MDG, is part of a deal between manager Guy Oseary and Iconix Brand Group Inc., which is also responsible for the Macy's collection.

The collaboration marks D & G's first-ever cobranded collaboration.