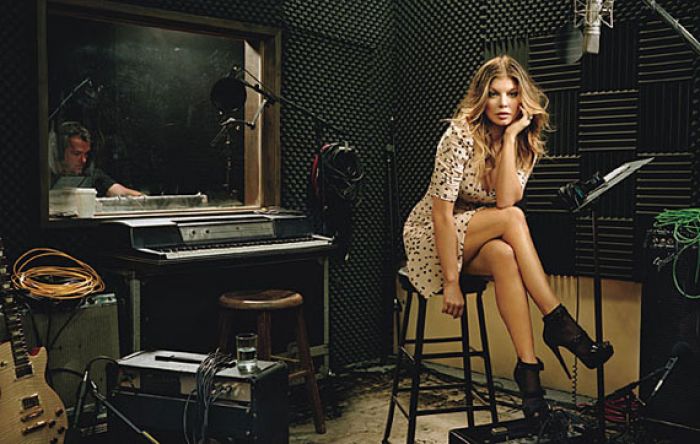 News & Trends:
Glamour Magazine
has announced its 2010 women of the year. This year's special event is to be held at Carnegie Hall in
New York City
, with winners from the fields of entertainment,
business
, sports,
fashion
and politics. Glamour's Women of the Year advisory board, made up of past honorees ranging from Jennifer Lopez to Nora Ephron to Katie Couric made the nominees, which include:
Fergie — With six Grammys on the shelf and a new The Black Eyed Peas album, The Beginning, dropping this month, the multitasking singer is a major musical force, and the powerhouse behind one of the decade's top bands. She also uses her girl power to give back, advocating for causes like breast cancer research and AIDS awareness.


Julia Roberts — This Oscar winner is unstoppable. She had a summer hit with Eat, Pray, Love and is helping to make the world a better place by supporting Paul Newman's Hole in the Wall Gang camp; serving on the board of Earth Biofuels, which promotes renewable energy; and raising awareness for Rett Syndrome.


Donatella Versace — The designer and survivor has a lot to celebrate this year: rave reviews of her runway shows and plans to expand beyond the 80 Versace boutiques that now dot the globe. She does it all while continuing to support a children's charity in China and acting as a mentor to younger designers.


Queen Rania of Jordan — She tweets. She blogs. She has nearly 30,000 followers on YouTube. Queen Rania of Jordan is not only the world's most modern royal, she is also a leader on one of this century's key issues: empowering and educating women and girls. In September Her Majesty became a global advocate for the U.N. Foundation's Girl Up empowerment program.



Lifetime Achievement Award

Cher — Forty-five years after "I Got You Babe" made her a sensation, Cher is, once again, everywhere. Glamour's Lifetime Achievement Award winner is starring in the upcoming film Burlesque, her first feature film in seven years; continuing her long-running Las Vegas revue; and even planning to direct her first film. Cher has also helped build a school for orphans in Kenya, supported Operation Helmet and cofounded The Heroes Project for wounded veterans.



Glamour's 20-Year Tribute to Women in Sports

Lindsey Vonn, Mia Hamm and Lisa Leslie — Just a few decades ago, only 7 percent of high school athletes were girls; today 42 percent are. We recognize these three women as leaders in the world of sports. Olympic gold medalist Lindsey Vonn is known as the most successful female ski racer in American history. Mia Hamm is a two-time Olympic gold medalist and five-time U.S. Soccer Female Athlete of the Year. And Lisa Leslie, winner of four Olympic gold medals, has the distinction of being the first woman to slam-dunk in the WNBA.


Constance McMillen — When her high school told her she couldn't take her girlfriend to the prom, this 18-year-old contacted the American Civil Liberties Union, which filed a lawsuit. Her school canceled the dance, but Constance's actions and her dignity drew worldwide attention to the trauma gay teens often face in these days of bullying.


Katie Spotz — To raise awareness about the global need for clean drinking water, this 22-year-old decided to row solo across the Atlantic Ocean. Ten thousand strokes a day, more than 2,800 miles and 70 days later, she became the youngest person ever to complete this feat. Her trip raised money for the Blue Planet Network.


WOTY Fund Winner Dr. Hawa Abdi and her daughters — One part Mother Teresa, one part Rambo, this 63-year-old ob-gyn and her two doctor daughters provide food and care for approximately 90,000 Somalis displaced by that country's violence on her family's land outside of Mogadishu. She's faced down militants and threats to her life, but remains focused on providing help to her country's most helpless citizens.


Our World's Female Heads of State — The number of female presidents and prime ministers has nearly doubled since 1990. There are now 19 female heads of state worldwide, and Glamour honors them with a collective award. Five are scheduled to appear on stage at Carnegie Hall, including President Ellen Johnson Sirleaf of Liberia, President Dalia Grybauskaitė of Lithuania, Prime Minister Iveta Radičovó of Slovakia, Prime Minister Kamla Persad-Bissessar of Trinidad and Tobago, and Prime Minister Jadranka Kosor of Croatia.


The special event will also include a special performance by Grammy-nominated singer Janelle Monaé. This year's award ceremony will mark the twentieth anniversary of Glamour's Women of the Year, so the event will also stage a special tribute to 20 young women who are already changing the world. These special women include Sharmin Mollick, 18, who was forced to quit school in the seventh grade but refused to give up on her education. She took a job sweeping streets so she could pay for a tutor. This year she begins her freshman year at Cornell University. Also being honored is Tavi Gevinson, 14, creator of The Style Rookie and has been featured in The New York Times Magazine, Teen Vogue, Vogue Paris and was part of the inspiration for Rodarte's line at Target. These women are our planet's future — and no doubt our future honorees.
The 2010 Women of the Year are profiled in the December issue of
Glamour
, on newsstands November 9.
Photo credit:
Glamour.com