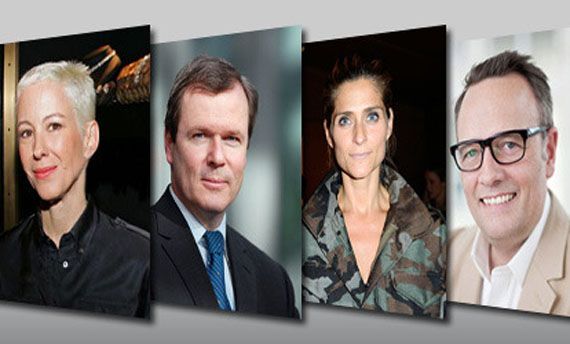 Photos Courtesy of Ferretti & OMHU
After the flurry of appointments, exits and scandals that was Paris fashion week, the luxury industry seems to have returned to calmer waters. Dior have announced that they will take their time finding a successor for ousted creative director
John Galliano
, as reported by Fashionista, because Galliano still hasn't formally been fired and the brand doesn't want any announcement on the future of the brand to overshadow this season.
Shoe designers Kari Sigerson and Miranda Morrison have elected to part ways with their namesake label's parent company, Marc Fisher Footwear, shortly after the announcement that the line is about to be re-evaluated with a particular focus on price points, for both the signature collection and the diffusion line, Belle.
Whilst neither party was willing to confirm whether or not this is the reason for the split, the design duo have said to be currently searching new business opportunities together, remaining within the footwear realm.
Fabrizio Malverdi, director, Dior Homme
After heading up Givenchy Couture since 2008, Fabrizio Maverdi has been selected to take over the reins at Dior Homme, alongside design director Kris Van Assche. Reporting to Dior president and CEO Sidney Toledano, Malverdi joins Dior Homme as director after service at John Galliano and Mariella Burani Fashion Group. He has been replaced by another LVMH Alumni Sue Whiteley, who was previously responsible for Louis Vuitton UK and Ireland.
Michael Gross, CEO, Morgans Hotel Group
Morgans Hotel Group, operator of Mondrian in Los Angeles, South Beach and New York and St Martins Lane in London, recently announced a thorough management restructure, appointing Ron Burkle and Jason Taubman Kalisman to the Board, Michael Gross as CEO, David Hamamoto as Executive Chairman; Daniel Flannery as COO and Yoav Gery to the post of Chief Development Officer.
Gross was elected CEO after joining the Board in 2009, before which, he worked in hospitality related roles at Prentice Capital Management, Lehman Brothers Inc. and Salomon Smith Barney.
Barry Miguel, president, 7 for all Mankind
After holding executive positions at Ermenegildo Zegna, Versace and Nike, and presidency at Marc by Marc Jacobs Men's and Zac Posen, Barry Miguel has been announced as the new president of 7 For All Mankind, a position now vacant for almost a year. Miguel brings over 25 years of experience in the fashion apparel industry and most recently served as CEO of Tracy Reese.
Giancarlo Galeone, CEO, Ferretti Group
In deep sorrow for the sudden loss of former CEO Salvatore Basile, the Ferretti S.p.A. Board of Directors met under the chairmanship of Norberto Ferretti and appointed Giancarlo Galeone, Group shareholder and Director, as new Chief Executive Officer. Galeone has a profound knowledge of the Group which he directed as CEO from 1995 to 2006.
Kay Segler, brand manager, MINI
Former director of BMW M, Dr Kay Segler, is now responsible for MINI brand management commencing May 1st. Segler has overseen development of several key M division models and has been with
BMW
since 1988, primarily in management functions within the sales and marketing division. He returns to managing the MINI brand, after a four-year stint ending in 2008. Dr Friedrich Nitschke will take over as managing director of the M division.
Michelle Kessler Sanders, creative director, Vera Wang
Formerly the fashion director of T: The New York Times Style Magazine, Michelle Kessler Sanders has been appointed creative director of the Vera Wang Group. Sanders will now help oversee the design process of more than 12 licensees and four internal divisions, in categories as diverse as fragrance, bridal, homewares and stationery at a myriad of price points. Sanders have worked in editorial and executive positions at Prada, Giorgio Armani, Calvin Klein Vogue, Juicy Couture and Donna Karan.
Jesse Robert Lovejoy, chairman, Orient Express
Orient-Express, owners of
luxury hotels
, restaurants, tourist trains and river cruise lines in 24 countries, recently announced long-serving board member, Jesse Robert Lovejoy, as the new chairman of the board. After existing chairman James Hurlock and company founder James Sherwood formally announced their retirement.
Lars Peter Jung-Larsen, president global sales, Georg Jensen
Georg Jensen has appointed Lars Peter Jung-Larsen as president of global sales responsible for all distribution channels globally. After working at Hugo Boss from 1991 to 2009, Jung-Larsen launched his own consulting company, FirstRow, to develop global strategies for Asian fashion companies and help integrate Western ones into China. He was most recently managing director of Swiss Gaydoul Group before joining Georg Jensen.
Susy Korb, EVP, Tourneau
Former CMO and creative director of Harry Winston, Susy Korb has been named executive vice president and chief marketing officer at Tourneau, effective May 2. Korb has previously held positions at Christie's and
Tiffany & Co.
as senior vice president of global marketing and vice president of marketing communications, respectively.
Graeme Russell, head of PR & communications, Bentley Motors
Joining
Bentley Motors
from The Edrington Group, Graeme Russell has been appointed head of PR and communications after a four year tenure as USA Brand Ambassador for The Macallan Highland Single Malt Whisky. Russell will oversee all the Company's product, corporate and lifestyle media communications in the United States, Canada and Central and South America.
Bridget Tran, director of marketing Americas, Taj Hotels
Previously the e-marketing manager at Mandarin Oriental Hotel Group, Bridget Tran has been appointed as director of marketing – Americas for Taj Hotels. Bridget was the original founder of WOWtraveler.net, now known as KiwiCollection.com, one of the world's first online luxury hotel magazines.
Alistair Carr, design director, Pringle of Scotland
Former Balenciaga stylist and Central Saint Martins graduate, Alistair Carr has been named design director of Pringle of Scotland, replacing Clare Waight Keller after a six-year tenure. Carr designed his own label, shown at London Fashion Week for three seasons, alongside service at Marni, Cacharel and Chloé. His first collection at the house will be for spring 2012.
Ravi Thakran, managing partner, L Capital Asia
The recently announced L Capital $640-million fund for China and India, has appointed Ravi Thakran as managing partner, to oversee investment in lifestyle retail, consumer brands, beauty & wellness and hospitality, among other sectors. Thakran began his career in the marketing department of Procter & Gamble, India and after held titles at Tata, Swatch and Nike groups in Asia. In 2001 he joined
LVMH
's Watches & Jewellery for South East Asia, and in 2007 was appointed Group Representative Director for India.