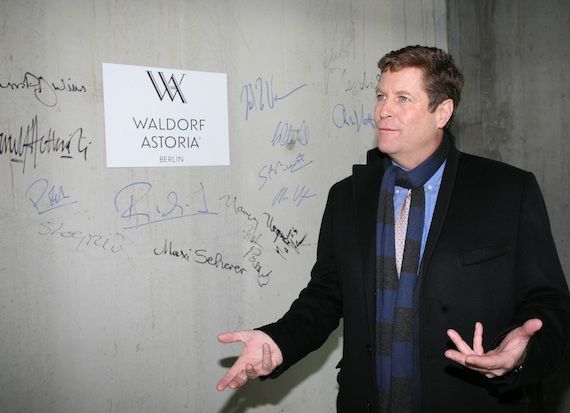 Photo Courtesy of Hilton Worldwide and Conrad
John T.A. Vanderslice is Hilton Worldwide's Global Head of
Luxury and Lifestyle Brands
. He has been in the brands business for well over 20 years, having been first as Kraft/General Foods. This year, he is in process of expanding the Waldorf Astoria and the Conrad brands, with hotels set to open in Berlin, London, Panama and Thailand. The most recent Waldorf Astoria just opened on the Bund in Shanghai on April 18.
While at the American Express Luxury Summit, he introduced "The Luxury Manifesto," a web-based video series featuring conversations with luxury influencers, from the world of fashion, media, culinary, travel and the arts.

Recently, we interviewed Mr. Vanderslice about the origins, goals and lessons learned from the Luxury Manifesto, as well as his opinions on the evolving nature of the meaning of luxury.


JL: What is the original intention of the Luxury Manifesto?

Vanderslice: We started the Luxury Manifesto a year and a half ago. During that time the whole world of luxury was in an upheaval. I looked at the research and wanted to glean the meanings from which the numbers were derived. I knew this was a teachable moment - we can always learn the most from times where there is extraneous economic or emotional upheaval. I wanted to reach out to the luxury influencers to discover how they and their customers were dealing with this change. People like Tommy Hilfiger, Steve Sadove of Saks, Inc., the renowned restaurateur, Danny Meier, all had some very relevant comments about seeing luxury in a new way.

JL: Right now, we are seem to be seeing an evolution in the meaning, in the theory and in the practice of luxury that involves qualifying rather than quantifying, a move toward authenticity rather than artifice. How do you see The Luxury Manifesto fitting into this new paradigm?

Vanderslice: It seems to me and others that meaning of luxury changed after 9/11. And right now there is a similar iteration occurring. CEOs of travel companies and others in luxury called the years that followed 9/11 The Get Real Decade - there was an increase in multi-generational travel, in family travel, people began looking for what was real, interactive, mindful. This was when conspicuous consumption started its decline, mainly because what was most important was authenticity, not artifice. And with the most recent economic downturn, all those introspective concerns began to resurface.


JL: How do those introspective concerns play into the lessons learned from the Luxury Manifesto?

Vanderslice: As you'll see, the introspective concerns play an important part in the emerging themes discovered from these interviews. Here they are, thus far:



Employees First: Luxury brands need to put employees first, not customers. This counterintuitive move ensures happy, empowered employees - the kind of employees who provide top-notch service. Employees who are happy in their jobs create better experiences for the guests.

Experiences Over Things: Post-financial meltdown, true luxury means enjoying and sharing unique personal experiences, not the accumulation of possessions.

Service Does Not Equal Hospitality: Service is a one-way technical process that normally involves meeting certain company-wide standards. Hospitality is a two-way dialogue that goes above and beyond and uses employee empathy and intuition to create a truly luxury experience.

Time is the Ultimate Luxury: Excellent luxury service anticipates and handles guests' needs, freeing up coveted "white space" on the calendar.

So, as you can see, these are mindful, person-based themes, not themes of acquisition. And, because of the lessons learned here, we are weaving these themes through our brands and our culture. How we treat our employees relates to how they deal with the guests. If anything, we are the liaisons of mindful hospitality on all levels. Danny Meier told me that service is a one-way monologue. Hospitality is a two-way dialogue. We have to have both foresight and insight when we deal with our guests.


JL: How will you use these lessons learned?

Vanderslice: The Luxury Manifesto will be incorporated into new service initiatives currently under development by Hilton Worldwide Luxury Brands. Ensuring guests experience personalized service from the moment they book their trip through the time they depart, this new initiative will be tested at select Waldorf Astoria Hotels & Resorts properties throughout 2011.

JL: How does the trend of the curated guest experience play into the brand pillars of the Hilton Worldwide Luxury Brands and how does this experience relate to the ideas in the Luxury Manifesto?

Vanderslice: The curated guest experience is an active part of our culture, whether it is experienced at The Waldorf Astoria or at the Conrad. The trend is also considered part of hyperlocalization, which means basically that the number one priority of any luxury hotel is to take care of the individual guest in ways that exceed expectations, through a nearly intuitive sense of the what this person wants or needs - as I said, foresightful and insightful ideas, combined to create a strong and memorable guest experience. It is part of the second Luxury Manifesto lesson.

JL: Your two main luxury brands, The Waldorf Astoria and Conrad differ in style and substance. Would you comment on how variable these two brands are?

Vanderslice: I often like to say that The Waldorf Astoria is similar to the Bentley or the Rolex, whereas the Conrad is similar to the Audi and the Tag Heuer. The Waldorf defines timeless elegance, whereas the Conrad defines smart luxury.


JL: And what is smart luxury?

Vanderslice: There are three ideas that define smart luxury: flawless service, connections, meaning smaller meeting places throughout the hotels, combined with a worldly, global style. No Lucite chairs anywhere. I don't like Lucite chairs.


JL: One of the ways in which your luxury brands are unified is the attention to eco-awareness and sustainability. Can you explain what some of your recent green initiatives are?

Vanderslice: Last year in April, we rolled out LightStay, a proprietary system developed to calculate and analyze environmental impact. LightStay helped Hilton Worldwide properties using the system reduce energy use by five percent, carbon output by six percent, waste output by 10 percent and water use by 2.4 percent in 2009 versus 2008. These results have been independently audited and are adjusted for any differences in occupancy levels and major weather events year over year.

LightStay takes into account energy and water use and waste and carbon outputs associated with building operations and services provided at Hilton Worldwide properties. As part of this, the system measures indicators across 200 operational practices including housekeeping, paper product use, food waste, chemical storage, air quality and transportation.

JL: What are some of the new hotel openings where we might soon see The Luxury Manifesto themes being put into practice?

Vanderslice: In 2011, we will be opening the Waldorf Astoria Sevilla at La Boticaria. It is a 133-room property sits in 40 acres of private land and offers a truly authentic Andalusian experience, with a private equestrian facility. We just opened the new Waldorf Astoria Shanghai, we will be opening the Waldorf Berlin and the Waldorf Panamera in Panama in late 2011 also. In the next years will are slated to open the Waldorf Astoria in Jerusalem, Beijing and Montreal. As for the Conrad in 2011, we are opening the Conrad Koh Sumai in Thailand, The Conrad Algarve in Portugal, the Conrad in New York and in Dubai. We have fifteen more Conrad projects slated to open in the coming two years.


{start-jlvideo}842{end-jlvideo}