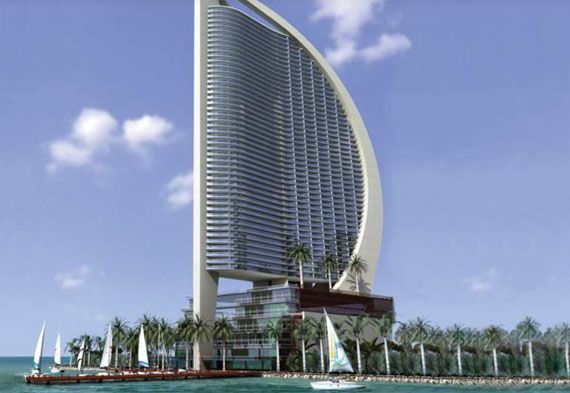 Photo Courtesy of Trump Hotel Collection
Recent openings and renovations in the Latin American luxury lodging market may prove that certain destinations always thought to be "emerging" or even third world are on their way up in the world. From beach boutiques to big brands, these new developments are showing North Americans that it's time to go south.
While
Argentina
experienced some political turmoil in the decade past, it's come through that and is now possibly the South American country most strongly associated with wealth, sophistication and fashion. Developers are investing big here; in fact, the newest major hotel, InterContinental Nordelta Tigre-Buenos Aires Hotel, Residences & Spa (right), is actually the ninth InterContinental Hotel Group property in Argentina. It's situated in Nordelta, a master-planned community 20 miles outside of central Buenos Aires. It will share many facilities/services with Nordelta, including access to a Jack Nicklaus-designed golf course, a country club and a medical center.
Argentina's neighbor and arch-foe,
Brazil
, used to have a much more checkered reputation among travelers — for every beautiful beach, a poverty-ridden favela; for every love story, a cautionary tale about crime — but the country is experiencing a huge economic boom right now, with an emerging middle class borne of it. Though many international hotel brands are moving quickly to develop in Brazil's cities, it's a sign of the times that independent luxury hotels are starting to crop up in regions heretofore undeveloped for tourism.
Kenoa Resort (above), a Design Hotel-affiliated beachfront boutique in the untrafficked Barra de S?o Miguel coastal region of northeast Brazil, is winning rave reviews just a year past opening for its jazzy-beach-chic vibe and contemporary architecture. At first, customers were mostly Brazilian, but international explorers have increasingly begun to seek it out.
But perhaps no destination has seen the level of
luxury hotel and resort
community growth that Panama has in the past two years. With new properties ranging from eco-resorts like Coral Lodge by Cuna de Vida (left), which bills itself as "Panama's only Aqua Lodge" and specializes in diving; to big-box American brands like the Westin Playa Bonita, opening October 11, Panama's gone from being a backpacker favorite to an all-around player in the luxury market.
And if anyone needs any further proof that this location is Central America's most exciting destination from a luxe traveler's standpoint...well, just train your attention above Panama Bay, where a lavish Trump Ocean Club (top image) opened on July 6. The property, which has 369 rooms, a casino, a shopping floor, and a 10,000-square-foot spa, is Trump Hotel Collection's first foray out of the United States. It will combine typical Trump touches — like a private beach club on a nearby island — with an exciting array of uniquely Panamanian excursions and adventure side trips