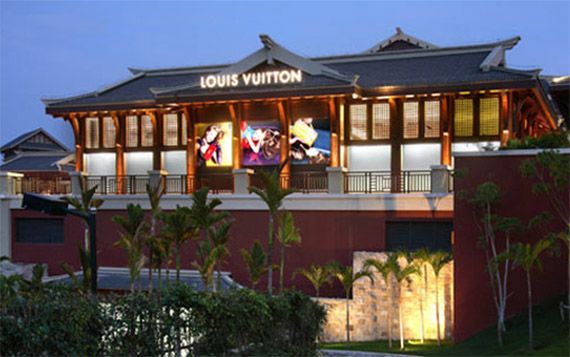 Photo Courtesy of Louis Vuitton
The rise of personal wealth in China is driving the country's unprecedented demand for luxury goods. Moet-Hennessy Louis Vuitton, the world's largest producer of
luxury goods
, recently announced that its profits through second quarter 2011 are even better than the firm's original projections. Demand for its products has soared in emerging markets as well as in America and Europe. LVMH has plans to open two new stores and to expand on four existing stores this year in Asia.
The growing Chinese economy and a rise in the country's ever-growing population of affluent consumers are prompting forecasts from analysts that sales of luxury goods could spike by as much as eight percent for 2011, according to a luxury retail expert at Washington University in St. Louis, Miss.

"One of the key factors driving global sales of luxury goods is the burgeoning Chinese economy and the concomitant expansion of its affluent classes," says Martin K. Sneider, adjunct professor of marketing at Olin Business School.

Sneider also said that the Chinese are anxious to demonstrate their successes and newly found wealth. "What better way than purchasing and displaying or wearing the signature luxury items that Louis Vuitton and other similar brands market?"


France-based Hermes International SCA also has increased its half-year revenue projections. The world renowned maker of luxury handbags and silk scarves is expected to announce an increase in first-half year operating profits by 12 to 14 percent, according to Washington University's Professor Sneider.

Despite the situation of the overall economy, the luxury market is doing well, as evidenced by an increase in the sales of high-end luxury automobiles and the new sales records being established this year for fine art.

Professor Sneider teaches the Luxury Apparel Marketing course at the university. He took his students on a two-week tour of luxury brand's headquarters in Europe this year. Presentations from senior executives, buyers and strategists from luxury industry stalwarts such as, Louis Vuitton, Chanel, Hermes, Burberry, Brunello Cucinelli, Gucci, and Armani were given during the class sessions.

"The stock market has recovered, commercial real estate has rebounded and corporate earnings and salaries are robust," said Sneider. "The self-imposed austerity of 2008 and 2009 is but a distant painful memory for wealthy Americans. Comparative store sales are up every month for Saks and Neiman-Marcus, which provides further proof that for their customers the recession is history."