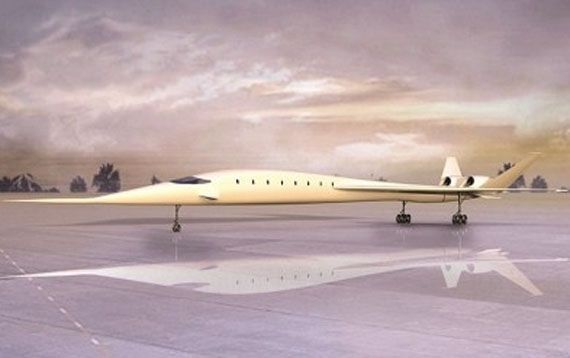 HyperMach's CEO Richard Lugg said that his firm's SonicStar (above) will be airborne by 2021, flying above the supersonic speed of Mach 3.5
From new companies purporting to slash the price of private jet hire to entrepreneurs preparing for a return to the era of supersonic speed and space travel, there are a lot of exciting developments on the horizon for
luxury aviation
.
First, for the news at the apex of the market. It's not just far-out sounding ventures for flying enthusiasts on the fringes of the luxury market like the hundreds who have reserved seats aboard the Virgin Galactic suborbital space craft for $200,000 apiece – which is reportedly due to launch early next year.

There has also been a lot of chatter in the blogosphere this week about creating higher standards of luxury and convenience in executive air travel and about the race for manufacturers like Aerion and HyperMach to build aircraft which will give consumers back the option to drastically decrease flight times.

Back when the iconic Concorde was mothballed in 2003, it was under the dark shadow of the devastating Air France crash that had killed all 100 Concorde passengers three years earlier. But the real reason that the Anglo-French venture in supersonic passenger planes ended was that the two governments had granted Concorde carriers British Airways and Air France subsidies to buy them and that the aircraft was simply deemed to be unprofitable in the long term.

The sales pitch for companies like HyperMach and Aerion is simple. The wealthy had come to count on saving precious hours flying exclusively with like-minded peers for nearly thirty years on Concorde and that service was abruptly snatched out from under them. The next generation of aircraft manufacturers will be counting on a lost sense of entitlement among these consumers – a feeling that they've had to endure 'prehistoric' journey times long enough since 2003 and that now is the time to do what Concorde did for them once again – and have it done even better.



One need only look at how many thousands of times the sensational headline "New York to Sydney in five hours!" has been used to catch readers' interest since one such aircraft was first reported by The Daily Mail three years ago. Back then they had dubbed the plane the A2 or "Son of the Concorde". The only problem with this ground-breaking machine said to fly at five times the speed of sound (Mach 5) was that the details were still very sketchy and there was absolutely no timeline put on when the concept would become a commercial reality.

Keep in mind that a typical jumbo jet in the skies today like the Airbus 380 cruises at a speed of less than Mach 1 (about Mach 0.85 or 900 kilometres per hour) and that the Concorde cruised at just over Mach 2 (about 2,170 kilometres per hour).

But now, according to the Humans Invent blog, "the race to revive supersonic transport has already begun, with faster, more fuel efficient planes being lined up to replace Concorde, capable of flying from Paris to Tokyo in less than three hours. EADS's Zero Emission Hyper Sonic Transport (ZEHST) is just one of a new breed of supersonic aircraft. Primed for 2050, it will be powered by biofuel made from seaweed, reach speeds up to 5,000 kmh using a combination of ramjets and rockets, and carry passengers above the Earth's atmosphere. It will be both cost effective, and fast."

EADS spokesman Gregor von Kursell explained to the blog's author, Stephen Ebert, that "Concorde was 1950s and 1960s technology. The three different propulsion types we're considering – one of which we have perfected for the Ariane rocket – could make this achievable by 2050."



The author continued: "ZEHST won't be alone. Hypermach recently unveiled plans for the SonicStar – a business jet capable of speeds as fast as Concorde at Mach 3.3, and 30 per cent more efficient than the engines used in Concorde. A London to New York flight will take just a couple of hours, says Hypermach. The next generation of supersonic aircraft will be quieter too. Hypermach will use the latest technologies to reduce the sound of sonic booms over land to cut down on the sort of noise pollution associated with Concorde aircraft of old. 

The first bookings are already being taken, with the first SonicStar flights due to take off in 2021."

A few months back, Forbes put another high speed aircraft into perspective by comparing the fastest contemporary business jet, the Cessna Citation X, with the Aerion SBJ which Aerion's spokesman says will be put into production "soon" thanks to letters of intent for 50 orders for the $80 million aircraft. According to Forbes's calculations, crossing the Atlantic could be cut in half.

"The Aerion SBJ, a supersonic business jet…flies at speeds up to Mac 1.6. This is much faster than any current civilian aircraft but a bit short of Concorde's Mach 2. It will let you fly from New York to Paris in 4:14 hours (compared with 7:23 in a Gulfstream V) or New York to Los Angeles at M0.98, to avoid those pesky sonic booms, and still arrive 41 minutes before a G-V. By flying over the sea, New York to Miami is just 1:33 hours. In other words, it's fast and it's efficient."



At the other end of the spectrum are two entrepreneurs who find themselves in the news thanks to new business models which hope to make private jet travel more accessible and even what some dare to call 'democratic'. The first is Clive Jackson, who is launching a private jet-share community called Victor at Flyvictor.com.

According to the The Daily Telegraph, "[Jackson's] new website…allows members to book spare seats on private flights already chartered by other travellers. Members can opt to pay a fixed price for a seat – a price which gets lower as the other available seats are filled – or place a bid on a seat and wait to see if the price is accepted. Current jet broking businesses require members to buy shares in a specific plane which they can charter flights on. Victor members, however, are not required to provide any form of upfront investment or deposit, other than payment for the seats for their flight."

"[Jackson] argues that existing jet brokering services, such as NetJets, are not focused on cost, where as his is. In addition to providing a competitive service to existing jet charter customers who will often have to foot the bill for the jet returning to its base empty, he aims to attract passengers who perhaps would not previously have considered the advantages of flying privately."

The second is Adam Twidell, CEO of PrivateFly.com and a former Royal Air Force pilot who Reuters says "understands the needs of busy jetsetters [because he] used to fly planes for fractional-ownership jet firm NetJets and now runs an online marketplace for private charter aircraft that's been called 'the iTunes of aviation.'"

If they do indeed hit the mark, then what might just make the likes of Mr. Jackson and Mr. Twidell the next generation of deep-pocketed service providers in the private jet sector is a growing malaise among business class travellers using commercial flights. One need only peruse a few of the testimonies given by a few of these globetrotters that BusinessWeek recently chronicled for confirmation of the fact. Or simply absorb the headline: "Shared Jet Sales Soar as Rich Fliers Avoid Airline Hassles."