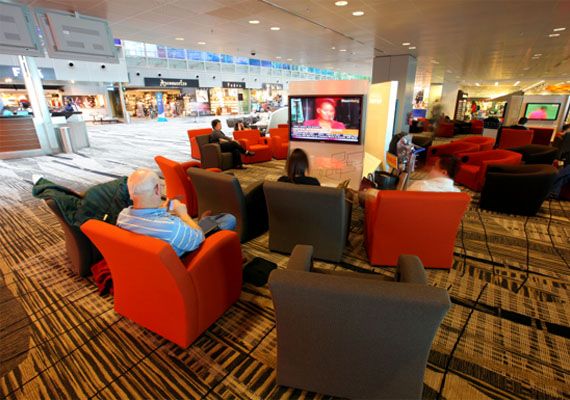 Photo Courtesy of Changi Airport
With most American-based airlines cutting corners everywhere they can, many business and first class lounges are starting to look shabbier every week. Gone are the free drinks, wireless Internet access and even the tiny shrink-wrapped sandwiches. It's all fluorescent lights, bad coffee, and disappointed
Up in the Air
types wondering what ever happened to life's little pleasures.
But there's hope for those sandwiches yet. We've spotted a small, but growing trend of VIP airport lounges that are teaming up with premium brands to offer special luxury perks for their business and first class passengers. It seems some carriers are remembering that oft-forgotten adage, "Keep the customer satisfied." 

Abu Dhabi was ahead of the Americas on this trend: Etihad Airlines launched a partnership with Six Senses spa in January of 2009, offering first class and business class lounge guests a limited menu of complimentary treatments, including a facial renewal and a foot detox.



Recently, two airlines rolled out specialty pre-flight cocktailing programs. First came Delta Sky Club's partnership with Tequila Avion, the spirit made famous on Entourage. Several Delta Sky Clubs including Miami, Atlanta, JFK and of course Los Angeles hosted regular tequila tastings throughout the summer months, featuring custom Avion cocktails. This seasonal program was definitely a win-win; it gave lounge guests an entertaining diversion and a strong drink pre-flight, and provided irrefutable proof that indeed, Avion is a real-life brand and not just an HBO creation.



Across the Atlantic, Virgin Atlantic and GREY GOOSE Vodka just unveiled an ambitious partnership in the Virgin Atlantic Clubhouse at Heathrow Airport. More than a tasting program, this is closer to a pop-up lounge, dubbed the "GREY GOOSE Loft," and featuring guest DJs, a brasserie menu, and a menu of signature GREY GOOSE cocktails.



But no lounge so far can match the special services and amenities offered at Changi Airport in Singapore. Usually listed among the top five airports in the world, Changi offers an amazing array of pre-flight activities, including complimentary movie theaters, complimentary foot massage, Internet stations, interactive art zones and a Butterfly Garden. All the more impressive: these aren't special services for first and business class passengers of a particular airline. Anyone who's made the long-haul flight to this wealthy little Asian city-state is considered a VIP guest.

Virgin Atlantic GREY GOOSE Loft

Changi Airport 3D Experience in Terminal 2