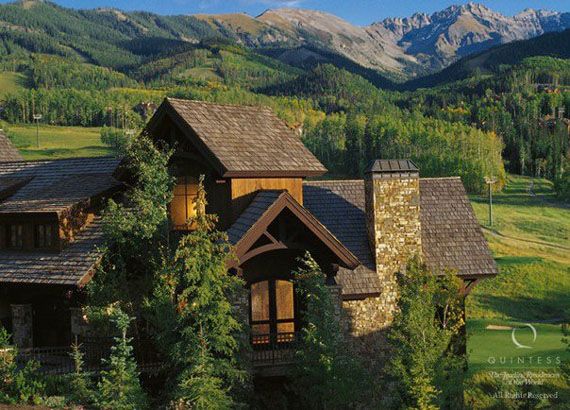 Photo Courtesy of Quintess
How important is the role of chief marketing officer in a business model? I would speculate that more times than not, everything you know about a company and how it is presented comes from the office of the chief marketing officer. The C-level marketing executive is vital and responsible for their company. Ben Addoms, the founder and CMO for
The Quintess Collection
, was kind enough to chat with us recently. 
Addoms has more than 20 years of executive management and investment experience with private and public companies involved in online and offline marketing, direct response, database marketing, advertising and publishing. He has served as president of Excite@Home's media and marketing services, as well as managed its subsidiary MatchLogic. He shifted from technology to real estate opportunities both inside and outside the U.S. His insight offers a keen perspective. 

Would you say that the level of business of Quintess has returned to pre-2008 levels?

Ben Addoms: It's certainly trending in the right direction. We've seen a substantial rise in new membership sales as luxury and corporate spending continues to increase across the board. We have doubled our membership sales revenue in the first six months of 2011 compared to the same period in 2010 and expect to be up by 250% for the year. Other industry leaders have reported similar trends, indicating that destination clubs are benefiting from a resurging luxury travel industry.

What significant changes have been made to the Quintess business model since 2008?

BA: The most significant is the creation of The Quintess Collection, the only private destination club network. It's an innovative new membership feature that allows a member of any of our three clubs to have access to the benefits and amenities of all three clubs, Quintess, DUO by Quintess and the golf-focused Tour Club. Our members have the freedom and flexibility to enjoy more than 100 exquisite luxury homes across 40 worldwide destinations. It's the first collection of its kind and further sets us apart from other clubs and luxury travel options.



Industry analysts report that the three most significant factors to affluent consumers when selecting a destination club are scope of destinations, size of the company, and price of the membership. Quintess represents itself to members in three different options: Quintess, DUO by Quintess, and The Tour Club. Would you say that you do this to meet these criteria for as many perspective customers as possible?

BA: Sure it helps to have a wide breadth of offerings when it comes to attracting new members, but that's not why we continue to grow and expand across The Collection. People join the club for the experiences they get to share with the people who matter most in their lives. It's our responsibility to continually expand their horizons by adding new destinations and unforgettable vacation experiences.

We're also able to cater to families of different sizes, budgets and interests through the club's various offerings. For instance, members with large families can stay in Quintess homes and take advantage of larger (average $4 million/four-bedroom) homes, while couples and smaller families can enjoy a more intimate setting in a DUO by Quintess home (average $2 million/2-3 bedrooms).

In February we announced the launch of Quintess Beyond, which literally opens up a world of new experiences to all of our members which reach far beyond the club's portfolio of luxury residences. We currently have eight experiences available to members in 2012, including a Galapagos Island cruise, Mediterranean Sea voyage, several amazing African Safaris, and a Caribbean yoga retreat, etc.



People sometimes refer to a destination club and a private residence club as being the same thing. Aside from one offering multiple locations and the other providing one destination, what are the other key differences between the two?

BA: Both are alternatives to the expense and hassles of owning a luxury second home and both offer impeccably furnished, luxurious accommodations. The biggest difference as you mention, is that one is buying a share in one property in one location while with a destination club, like The Quintess Collection, members have access to more than 100 luxury homes in 40+ destinations worldwide. Owners of a PRC own the real estate and have a fractional title and deed in most instances, while Quintess is a non-equity membership; however, members receive 75% of their initial membership fee upon resignation and the subsequent resale of their membership by the Club.

When someone becomes a member of a destination club, there is an initial, one-time fee. What is that fee based upon?

BA: Members choose between Quintess and DUO by Quintess (real estate value) as their "home" club and then select from various membership plans based around the number of nights each year they want to travel. They then have the flexibility to use some of their nights at any club residence in the Quintess Collection. The membership fee is less than one-tenth of the value of a single home in the club, with none of the hassles of ownership and annual dues are a small fraction of the annual cost of owning a comparable second home. It not only makes great economic sense, but the real secret is that people take more vacations and have a better time on vacation than they would otherwise. The Quintess Collection offers flexible payment terms for the initial membership fee that make it easy for people to join any of our Clubs.



Members with large families usually prefer to join Quintess for the size of the homes (average $4 million value and four bedrooms) and then trade a few nights for time in smaller DUO by Quintess homes (average $2 million value and three bedrooms) for vacations that are equally luxurious, but in a more intimate setting, or elect to have an exceptional golf trip through The Tour Club or pursue the dream of following Charles Darwin's path through the Galapagos with Quintess Beyond. Members that travel with a smaller group more often usually choose to join DUO, but they can access a Quintess Home or a Tour Club or Quintess Beyond experience too.

Do members have any voting rights in regard to the future of the company, such as destinations and growth? What efforts does The Quintess Collection make to keep members involved and aware of the club's financial standing and security?

BA: As The Quintess Collection is member-owned and member driven we value our members' opinions a great deal and rely on them to help us guide the future of the company and make decisions about our expansion and growth. We do conduct ongoing surveys about member's destination priorities and preferences. More than half of the Board of Directors are members and an Advisory Board, which includes a dozen members, provides additional direction to Club management.

As far as the club's financial standing and security, full disclosure with our members is extremely important to us and we've cultivated a culture of openness and transparency. Our members have complete access to the company's financials through quarterly updates and annual audited financials and are regularly informed of the latest developments and news from the club.



The Quintess Collection has a Facebook page. I also noticed that you are on Twitter, YouTube, and Flickr. Any plans to expand on social media activity for either marketing or customer service purposes?

BA: We're very involved in social networking through all the outlets listed above and are dedicated to growing across all platforms from both a marketing and customer service perspective. We also offer our members a personalized online portal, which is designed to help our members create their own Quintess community, share amazing club experiences with each other and to refer the club to friends and family. Members also manage their membership travel plans, connect with key Quintess Collection staff, plan vacation activities and share their travel experiences with other members by sharing photos and reviewing destinations.

What would you say that Quintess does better than the other destination clubs?

BA: Quintess members are extremely satisfied with their Club experience and they show it by referring friends and family. More than 65% of our new members are joining because of our members' endorsement of the Quintess Life. We offer more choices, a greater variety, unequalled flexibility and better home availability than any company in our industry. As a result, our members have access to a broader range of residences and experiences around the world that appeal to a wide variety of interests and lifestyles.

Beyond the experiential value of The Collection, the club's financial stability and sustainability are key differentiators in the destination club and real estate markets thanks to a $210 million long-term equity commitment through 2017 and a committed membership base of over 600 members that provide the operating economies of scale and annual dues and fees that fully covers club operating costs.



Is there any recent news on Quintess that you would like to share with us?

BA: We just announced our newest East Coast addition to the Collection, which is access to beautiful residences and resort amenities at The Cliffs Communities in the Carolinas. There, our members will be able to stay at one of the four-bedroom Cottages at Keowee Falls while enjoying the extensive family-friendly amenities and world-class golf courses at all eight Cliffs Communities. We are also finalizing our next wave of Quintess Beyond experiences, which will broaden our offerings even more to include intimate wine tours of Burgundy and cultural excursions to different countries around the world.

How did Quintess and the PGA Tour end up getting together to form The Tour Club?

BA: We began working with the PGA Tour on the design and experiences for the Tour Club in mid 2008. Club Holdings was contacted after we announced that we'd raised over $200 million to start new destination clubs in April of 2008. We were then introduced to the right people at the PGA Tour to develop our long-term strategic alliance. This also led to our purchase of PGA Tour Experiences and the Tour Academy business.

What does The Tour Club offer and how does it differ from other golf-related memberships?

BA: The Tour Club is the only club that offers members the ultimate trio of luxury golf travel: exquisite residences, access to some of the country's best private and resort courses and VIP experiences at professional golf events through an exclusive partnership with the PGA Tour all made incredibly easy and accessible through our golf concierge team. 



How do Tour Club members benefit from the club's offerings on a relationship-building/business level?

BA: It's safe to say that golf is recognized as a terrific relationship-building experience and The Tour Club is the best way to access the world of professional and private golf. For about the same price as a membership at an individual private golf club, Tour Club members can play more than 40 of the country's top private and resort courses, not to mention access to luxury residences, our Tour Academies, and exclusive member only golf events. Our corporate clients are able to cost effectively provide amazing experiences to their customers and their employees across the country "on demand" without the limitations that local sports or entertainment options represent. 

Many golfers enjoy being around the game as much as they love playing it recreationally. The dynamics are unique when compared to other sports. Do you think that a concept like The Tour Club could be used as effectively to attract followers or enthusiasts of other sports, such as tennis or yoga?

BA: Golf is one of the very few sports or activities where people dedicate a tremendous amount of time and spend a lot of money to travel to the farthest reaches of the globe to pursue their passion. That said, as part of Quintess Beyond, we created bespoke yoga retreats, in Los Cabos for 2011 and in the Caribbean for 2012, which are extremely popular with our members. We are working on creating experiences around other great sporting events including the Tour de France and Wimbledon. The joy for us in what we do is finding ways to surprise and delight our members and our corporate clients with things they never dreamed possible.