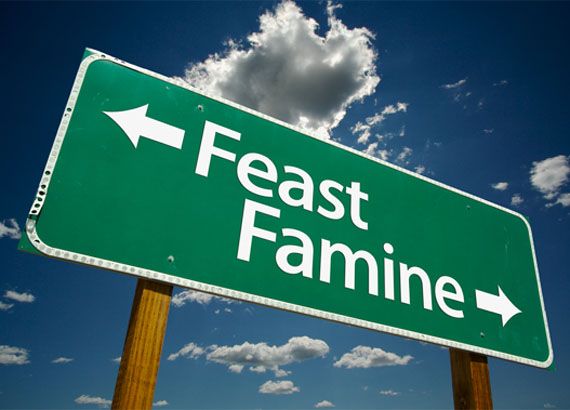 Photo Courtesy of Shutterstock/Luxury Institute
In Part I of my article on JustLuxe, October 4, 2011,
Luxury's Mixed Messages, Evaluating Current Market Research
, I said that, according to Reuters and other sources, the young millionaire populations seem to spend well, despite the somber economy. That was then, this is now, and now looks more divergent and more somber.
The Luxury Institute just published their January 2012 report, and it defines an end of year 2011 as a complex picture, and intuits that such complexity is not leaving anytime soon. Tiffany was a prime example of the high end brand's complex issue. On the one hand, in the U.S., Tiffany had a 1% decrease in holiday sales at the jeweler's flagship store on Fifth Avenue in New York. Also, Tiffany's same-store sales for November and December fell 4% in Europe and rose an anemic 2% in the Americas. But the other hand, sales rose 6% in Japan and a brisk 18% pace in the Asia-Pacific region, which includes China. 
But then, as the
Luxury Institute
also reports, other big names in luxury retail showed no evidence of weakness, with Nordstrom posting a December same-store gain of 8.7% and sales at Saks' stores open at least a year rising 5.8%. Nordstrom's results were even stronger than the headline number suggests — sales at its full-price stores were up 11%, far better than the 0.7% gain at its Rack discount stores.  
These differences seem to validate much of what was said last year, that the luxury market is alive and well in the Far Eastern markets, but in the upper income American consumer market, not so much. There is more to this. David Wessel of the
Wall Street Journal
wrote in a column on December 29, 2011, that for the past year and a half, the U.S. economy has been caught in a tug-of-war. "On one side is the economy's natural resilience," he wisely writes, "and on the other are the long-lasting effects of a burst credit bubble and some bad luck — the oil-price spike provoked by the Arab Spring, the supply-chain disruption following Japan's earthquake. Ask economists at the Institute of International Finance, an association of global banks, to put a number on U.S. growth for the first half of 2012, and they offer 1.75%: very sluggish." 
Yes, 1.75% is sluggish indeed, but possibly trepdiatious also. Is there also some kind of PTSD dimension going on? If there is, investors and mid-level affluents might use the following reasons: looking toward Europe, is the issue of the declining and possible demise of the Euro. Looking at home, there is the housing market. According to the Case-Shiller index, also quoted by Wessel, housing prices fell in October 2011 in 19 of the 20 cities tracked by this index. There are wary homebuyers out there, with the spectre of home foreclosures and unstable mortgage markets. Either way, there are both ratial and emotional reasons not to spend, and to just keep on renting.
James Surowiecki, the Financial Page Editor of
The New Yorker
, suggests in a January 10, 2012 column, that 2011 was the year of the yo-yo, "...as raw numbers probably understate how badly ordinary investors fared." He goes on to say that because of the volatility in the markets in 2011, and how much investors lost, many have quit the stock market entirely, allowing for a greater degree of economic stasis than before. Those that are left, the risk-tolerant and risk-loving can ironically be underlying causes of much of the market caprice. He also wisely suggests, "while crazy volatility may be great for traders (who live for the chance to make 2% a day) it's lousy for the rest of us, and for the economy as a whole."
Given this divergent data, two questions emerge: first how do
luxury brands
deal with this type of volatile, tug-of war, yo-yo market, and second, how do the wealthy deal with such volatility?
The Luxury Institute numbers again may provide some clarity to the first question. "Topping the list of attributes that define luxury and popular brands for wealthy consumers from all seven markets are superior quality (73%), craftsmanship (65%) and design (54%). Nearly half (47%) of wealthy shoppers worldwide cite customer service as a key consideration when evaluating luxury brands." These attributes seem to infer a desire for brand security, comfort, and even legacy. In a yo-yo economy, it is best to stay with and
hang on
to what you know.
But for the answer to the second question, Robert Frank, the Wealth Report columnist for the
Wall Street Journal
, wrote recently in his book,
The High Beta-Rich
, that managing wealth is now about managing risk, or playing more of a financial defense than a more risk-based offense. He says this is extremely difficult in consumer-oriented society based on status goods. But he believes that new, less risk-loving affluent attitudes must emerge, else the high beta-wealthy, many of those who have paper, not asset, wealth, will become a disposable elite, with market volatility and its associated high beta-wealth risk-addiction being the villains.
These arguable ideas give rise to the reasons why there are so many mixed messages and conflicting data swirling around the affluent bandwidth. As Mr. Frank explains in his book, there are High Beta-Rich, those who are risk loving, whose lives rise and fall on capricious stock trades; and the Low Beta-Rich, those who are more conservative, more long term in their asset strategies. These two different mindsets have very different ways of spending and saving, as do High Net Worth vs. Ultra High Net Worth, aspiration vs. inspirational millionaires.
The subtleties of income strata can't be overemphasized, as there are different attitudes and extractable research data from each. The mixed messaging of the luxury bandwidth reflects the mixed attitudes of the affluent. So can we forecast that Renaissance attitudes, projects and strategies will vanish in this ever- puzzling Reformation economy? Maybe not. Maybe so. Stay tuned.