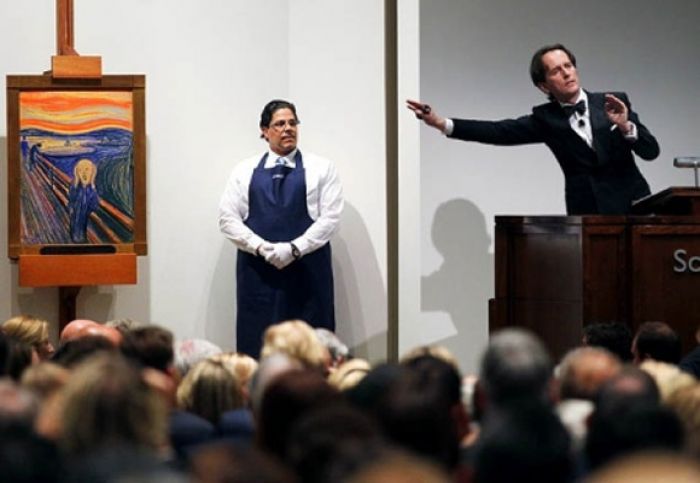 Photo Courtesy of Sotheby's
Contemporary art becomes 'the gold of the new rich', following record breaking auction sales in New York for Rothko, Klein, Lichtenstein and other post-war artists.
Fine art has been billed as the asset likely to offer the best returns this year against a climate of ever-increasing investor uncertainty, according to research by private wealth network Family Bhive. A preference to invest in fine art ranked above investment in property, alternative funds and soft commodities, where investors are thought to be looking for lower volatility through wider asset diversification.
The sample for this particular survey was perhaps too small to draw definitive generalisations. A multiple choice question was posed to a group of 70 bankers, investment managers and lawyers, asking 'What components of a diversified portfolio strategy will offer prospects of positive returns in 2012?' But a record-breaking week of Spring auction sales almost confirms the sentiments of the study's respondents, as the world's wealthiest shelled out more than $650 million on contemporary works alone.
Sotheby's accrued a total of $266 million for the sale of Francis Bacon's 'Figure Writing Reflected in a Mirror', Andy Warhol's 'Double Elvis', and Roy Lichtenstein's 'Sleeping Girl'. The works sold for $44.9, $37, and again, $44.9 million, respectively. This follows confirmation that 2011 was the second-best year ever for the auction house, despite a string of woes including the on-going art handler lockout and a 26 per cent slump in fourth quarter profits.
Just one week earlier, the very same house sold Edvard Munch's 1895 'The Scream' pastel on board, for $119.9 million – the highest price ever paid during a public auction. The house also achieved its highest-ever total auction figure for Impressionist & Modern Art, achieving just over $330.5 million – the second-highest total for a Sotheby's auction in any category.
Rival Christie's launched a relatively small sale of Impressionist and modern art, which easily achieved its pre-sale estimate of US$90 million to US$130 million, with only three of the 31 lots on offer going unsold – the highest sell-through rate for an Impressionist auction since 2006.
Christie's officials chose to launch a tightly edited sale, focusing on top-quality works in mint condition by Cezanne, Matisse and Picasso. "It's an extraordinary situation," remarked Brooke Lampley, head of Impressionist and Modern art at Christie's New York. "The art market hasn't correlated to other markets. We see a lot more people choosing to put their money into art."
Though the results of Christie's Impressionist and Modern sale may have paled in comparison to the publicity achieved by Sotheby's auction of 'The Scream', the house went on to break the record for the most expensive contemporary piece of artwork ever auctioned, when Mark Rothko's Orange, red, yellow, sold for $86.9 million.
Christie's Post-War and Contemporary Art Evening Sale totalled $388.5 million, including works by Mark Rothko, Gerhard Richter, Jackson Pollock, Alexander Calder, Yves Klein, and Richard Diebenkorn, marking the highest total ever in auction history for the category. 21 new world auction records were set and 50 works sold individually for more than $1 million.
"It's not like the end of the 1980s," suggests Richard Beales, "when Japanese buyers – who dominated auctions for Impressionist works – suddenly disappeared. If European collectors are cautious – as might be expected with financial tremors still rumbling around the region – there are plenty of U.S., Middle-Eastern, South American, Russian and Asian buyers to take their place."
"The high level of uncertainty created by the Eurozone crisis which means that assets with intrinsic value are in increasing demand," continues Caroline Garnham, founder and chief executive of Family Bhive. "People will always value beautiful works of art and see them as something they want to own as well as safe investments".
Find More Arts & Culture Events