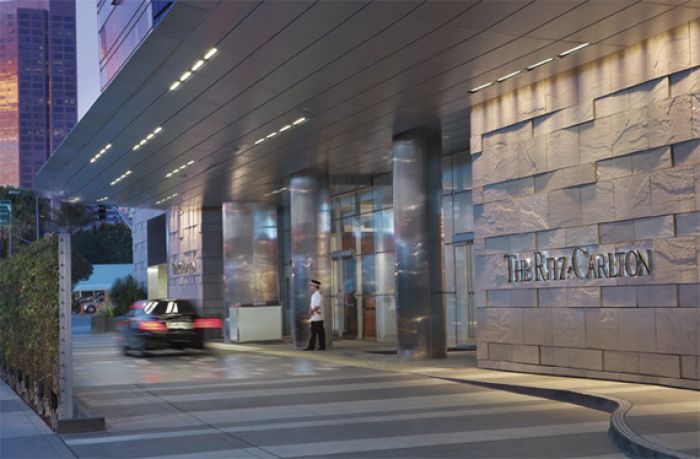 Photo Courtesy of Ritz-Carlton, Los Angeles
J.D. Power and Associates' annual North American Hotel Guest Satisfaction Index Study tabbed
The Ritz-Carlton Hotel Company
as the highest ranked in the luxury brand segment for the third consecutive year. The study, which is based on information collected from June to May on a yearly basis, contains responses from more than 61,300 guests who stayed in hotels in Canada and the U.S. during that time frame.  
"It is a tribute to our ladies and gentlemen that they continue to make guest satisfaction their first priority," said Herve Humler, president and COO of The Ritz-Carlton Hotel Company. "The results speak for themselves, and we are all proud to be recognized by J.D. Power and Associates in their 2012 Hotel Guest Satisfaction Index Study with such outstanding results, leading our competitors in the luxury set consecutively for the past three years. To achieve the highest ranking in Customer Satisfaction is a commitment of our service philosophy to exceed our guests needs and expectations."
The industry-specific customer satisfaction index has been conducted for 16 years by J.D. Power and Associates. The annual study measures overall customer satisfaction based on key criteria that include: booking reservations; checking in and out; conditions of guestroom; food and beverage; hotel services; condition of facilities; and associated costs to stay. Seven segments of the hotel industry ranging from extended stay to economy budget to mid-scale limited and mid-scale full service to upscale to upper upscale to luxury are reviewed. 
Ritz-Carlton plans to have more than 100 properties open by 2016. The firm currently operates 79 hotels and resorts worldwide. This expansion is fueled by more than $2 billion invested by entrepreneurs in the company. Properties in Okinawa, Japan, and Montreal, Canada, which opened in late May 2012, are the newest destinations. For more information, visit
RitzCarlton.com
.