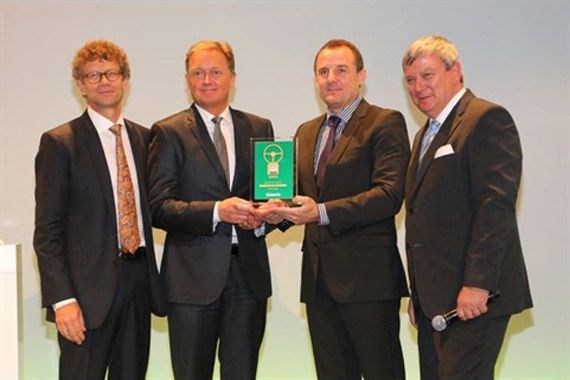 Photo Courtesy of Fisker Automotive
Luxury electric carmaker Fisker Automotive has received four awards from separate publishers in the automotive industry this month. The recent citations of excellence came from
Fast Company Magazine
and
Auto Bild Magazine
and occurred on the same evening on two continents.
In New York, Fisker won the Innovation by Design award from
Fast Company Magazine
, in the transportation category. In Germany, it won the Golden Steering Award as Classic Car of the Future in the limousine category from
Auto Bild Magazine
. Company co-founders Henrik Fisker and Barry Koehler were in Germany to accept the special award.  
"As the only non-German car to win an award tonight, in the heartland of BMW, Porsche, Mercedes and Audi, we are extremely proud to be considered in such high esteem, just months after bringing our new brand to this very competitive European market," said Mr. Fisker.
The independent judges on the award committee for
Fast Company Magazine
included senior creative executives from both Nike and PepsiCo. The Fisker Karma won out over formidable competition, finishing ahead of the Boeing 787 aircraft, the Ford Fusion car, and the Faraday bike. 
Back in the USA, the editors of
Motor Trend Magazine
recently named the Karma among its Top 10 Future Classics.
Motor Trend
called the Karma a striking vehicle automobile to look at, that will likely look just as good as it does today, 20 or 30 years from now. Lastly, Sweden's
Auto Motor Und Sport Magazine
voted the luxury-electric vehicle the Environmental Car of the Year for 2012.
Additional accolades and awards issued to the Fisker Karma over the past 12 months include BBC Top Gear Magazine's 'Luxury Car of the Year,' a Top 50 Invention of the Year accolade from
Time Magazine
, and
Automobile Magazine
's 'Design Of Year Award.