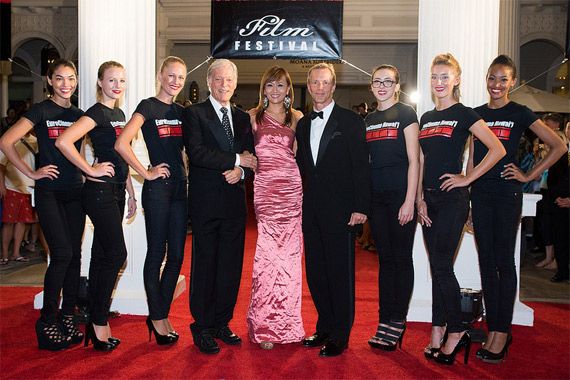 Photos: K.Winner/Travis Okimoto/Mark Ramelb
Luxury Row, a collection of some of the world's most recognizable shops, sits on some very expensive square footage on Kalakaua Avenenue, the main drag of Waikiki. Tiffany, Gucci, Chanel, Yves Saint Laurent and many others bring international flare to the busy boulevard only steps from the sand on one of the world's most famous beaches.
So when EuroCinema Hawai'i Film Festival 2012, part of the Hawaii International Film Festival, wanted to throw a gala party to announce the film festival awards, Luxury Row became a major sponsor and the grand dame of Waikiki, the
Moana Surfrider
hotel, was selected as the venue.
Dressed in "Euro Chic" attire, film aficionados, island glitterati and a swarm of titled island and European princesses, exited their Rovers, Benzes, Jags and Bentleys at the Moana to mingle, nibble and sip with actors, writers, producers, and directors. The evening began with HPD police closing a traffic lane to create an arrival area in front of the port cochere.
All guests walked the immense red carpet as paparazzi snapped and tourists ogled looking for a recognizable face. All graceful curves and elegant charm, the Moana provided a glamorous backdrop with the feel of old Hollywood. As guests strolled through the lobby and out to the garden party by the sea, the red and black EuroCinema logo flashed on the hotel facade to create the utmost excitement.
Guests sipped a cooling signature "Diva" cocktail by Young's Market, nibbled on beautifully plated bites by the Moana chefs, and adored J.J. Bistro's superb pastries. It was heaven under the celestial stars on this warm evening as human "stars" wandered around and smiled for the cameras.
EuroCinema Hawaii, founded in 2009, has a mission to "use the medium of film to increase cultural relations between the people of Hawaii and those of Europe." This is hardly a novel concept, as Hawaiian royalty in the 1800's made extended grand tours of Europe and had great relationships with the English Queen Victoria; but this evening celebrated the Hawaii-Europe connection and concluded the festival in grand style with an awards presentation and an after-party.
As a film-festival-within-a-film-festival (Hawaii International Film Festival), there were screenings around town of some fantastic films including Cannes' Grand Prize winner "Reality" (Italy/France), the Dustin Hoffman directed "Quartet" (UK), and Berlin Film Festival's 2012 Silver-Bear winner "Sister" (Swiss). This year Best Film Award, a beautiful glass sculpture by Tiffany, went to "Caesar Must Die" (Italy) from directors Paolo and Vittorio Taviani. Actor Richard Chamberlain, a much-beloved Hawaii resident was guest of honor and presented with a Lifetime Achievement Award.
K. Winner
You don't have to be a princess, producer, or a leading cast member of
Hawaii Five-O
to get on the guest list for the gala next year—although it helps. But here is a tip: for the admission price, anyone can attend! A sell-out each year, you'd better think about it now and plan your trip to Hawaii. Arrive in Honolulu a week early and see the fantastic films. Rent a Mercedes for the night or pretend you are a journalist by slinging a camera around your neck and drive up in your VW Bug. And to the gentleman actor, dear Richard Chamberlain, congratulations on your Lifetime Achievement Award.