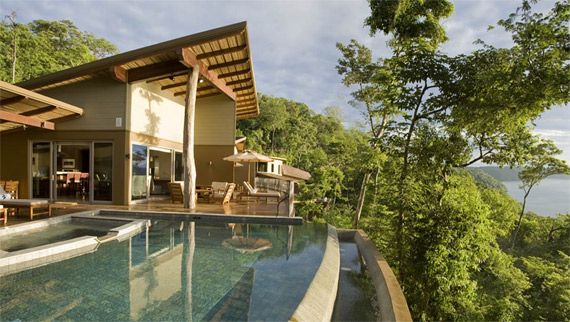 Photo Credit: Exclusive Resorts/Abercrombie & Kent
Exclusive Resorts®, a leader in
luxury destination clubs
for 10+ years, announced yesterday, November 26, 2012, that it would assume all operations of the Abercrombie & Kent's Residence Club portfolio. It was also announced that Abercrombie & Kent is now the Worldwide Travel Experience Provider for Exclusive Resorts, providing members with access to private and independent travel anywhere in the world. 
The addition of Abercrombie & Kent premier homes increases Exclusive Resorts' portfolio to more than 350 residences in more than 60 international destinations. As Exclusive Resorts' Worldwide Travel Experience Provider, Abercrombie & Kent lends its expertise and global reach to existing Exclusive Resorts' Exclusive Journey℠ and Exclusive Immersion℠ programs, creating even more once-in-a-lifetime travel experiences for new and existing members.
"Much like Exclusive Resorts, Abercrombie & Kent is an iconic brand with a legendary reputation in the industry," says Philippe Bourguignon, CEO of Exclusive Resorts. "It is a natural fit and expands our ability to deliver once-in-a-lifetime experiences to our members and further reinforces our position as leaders in the luxury travel marketplace. With this new partnership, Exclusive Resorts members will enjoy even more destinations, more choice, private and post-trip travel programming and a new group of travelers to grow with the club over the next decade."
For the 2014 roster of Exclusive Journeys led by Abercrombie & Kent, destinations include: Alaska, Japan, Kenya, Morocco, Burma and Turkey. With choices that range from relaxing to adventurous, the joint collection of travel experiences ensures details are taken care of so members can explore safely, luxuriously, and completely unhindered.
"This strategic partnership gives us the opportunity to focus on what we do best: delivering seamless travel experiences," explains
Abercrombie & Kent
Founder, Chairman and CEO Geoffrey Kent. "Our 50 offices around the world have deep roots and long-established relationships that enable us to deliver experiences unlike any other travel company."
The transaction between Exclusive Resorts and the Abercrombie & Kent Residence Club was subject to the approval of A&K Residence Club members. Member approval was obtained on November 19, 2012.