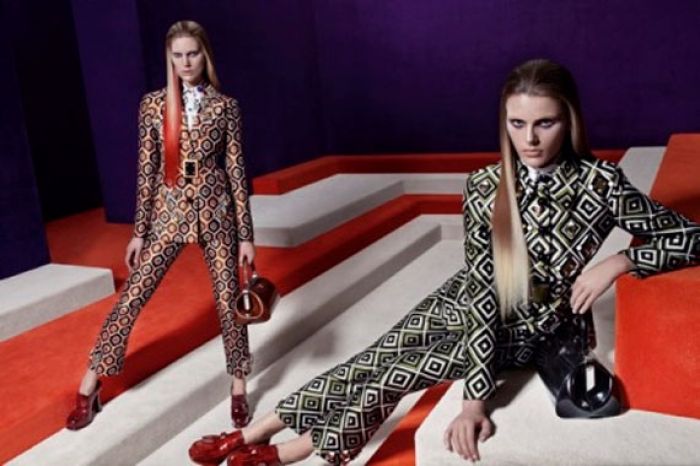 Photo Courtesy of Prada
Almost 15% of Interbrand's 2012 Best Global Brands were luxury brands. We spoke with Interbrand to find out what makes these particular brands household names.
Coca-Cola is the world's most valuable brand, trailed by Apple, IBM and Google, according to the 13th annual Best Global Brands report from Interbrand. The report ranks what it deems the 100 most valuable brands on criteria that include financial performance, the role the brand plays in influencing the choices made by consumers and the brand's ability to help its parent's earnings.
Luxury has been a fixture on the listing since it launched in 2001. In the first ranking, Mercedes-Benz (12), BMW (22), Louis Vuitton (38), Gucci (50) and Chanel (61) were deemed the five most valuable luxury brands in the world, with Rolex (69) coming in shortly after. Tiffany & Co (73) and Moet et Chandon (79) are two of six luxury brands to have ranked consecutively each year since the launch.
Manfredi Ricca, managing director of Interbrand Milan and Rebecca Robins, Interbrand's European director, attribute part of luxury's consistent reign to the sheer size of its brands. "Let's not forget that Best Global Brands is based on value," they explain, "which means that scale is one of the components in our valuation."
"When looking at premium and luxury brands we are often looking at companies with a more limited scale due to the business model, but where the brand's role is key in generating demand and profit."
"This is the case of the likes of Herm?s and Ferrari, who feature in the same ranking as brands such as, say, General Electric or Thomson Reuters, who operate on figures which are barely comparable."
"The second, and more inspiring point, can be attributed to brand management. Brands such as BMW, Gucci, and Tiffany & Co have been able to embrace – and sometimes drive – the colossal changes that the past 12 years have brought with them."
"The way in which we work, communicate, choose and buy has changed, and these brands have been able to stay relevant throughout. Behind these names are companies that have consistently recognised their brands as a key assets and central organising principles."
What is perhaps most interesting to note is this year's absence of Chanel and Rolex – neither of which have ranked since 2009 – just as Prada and Ralph Lauren both re-joined the list for the first time since the same year. "These two brands have not been included in the ranking due to financial transparency reasons," explain Ricca and Robins.
"While the availability of sufficient public data has always been a prerequisite, transparency became an ever more stringent necessity following the 2008-2009 crisis. Thus the information available regarding the Chanel and Rolex brands is not sufficient to make these brands eligible. Prada's exclusion in 2010 was due to the same reason; in 2011, the brand ranked below position no. 100."
"This year's comeback is due to the brand's sustained growth as well as to its strong influence at a global level. Ralph Lauren re-joined this year in the wake of its growth as well as of its understanding of and ability to embrace innovation opportunities when it comes to intertwining the physical and digital dimensions, as well as its careful selection of communication and sponsorship opportunities."
Indeed, many of this year's top ranking luxury brands are considered innovators when it comes to use of the Internet. Most high-ranking brands seem to have made a deliberate decision to embrace digital technology and social media throughout the supply chain, as well as communication and retail channels.
Mercedes-Benz, BMW and Audi have all this year unveiled new urban store concepts driven by interactive digital experiences, many using augmented reality technology, which they believe will form the future of retailing luxury cars. Gucci and Burberry have both integrated augmented reality and interactive screens in various flagship stores, and put iPad's into the hands of sales assistants.
Though Burberry ranked 82nd – a far stretch behind Louis Vuitton (17), Gucci (38) or Herm?s (63) – it was the first time the brand has cracked the low-eighties, after a consistent run in the high-nineties since 2006. Interbrand attribute much of its success to the leadership CEO, Angela Ahrendts, whose digital positioning helps to ensure consistency of experience across channels, and enriches the depth and accessibility of said consumer experience.
But ultimately, the world's best global luxury brands are those that have proven most agile and flexible in responding to a period of unprecedented change. "Ultimately, no industry has changed over the past 5-6 years in the way in which luxury has changed," confirm the duo.
"The crisis shifted the debate on luxury, it changed the drivers of demand in many categories and forced many brands to think carefully about their own DNA. Many say that the world of luxury has shown considerable resilience. We believe it's more than that."
"When we look for examples of innovative use of digital touch points, names such as Burberry and Vuitton spring to mind. When thinking of relevant corporate citizenship strategies, the likes of Gucci and Bulgari have done very well."
"The future holds great fascination, as we believe that luxury brands will be among the most interesting and instructive stories we'll read about in the next chapters of Best Global Brands."