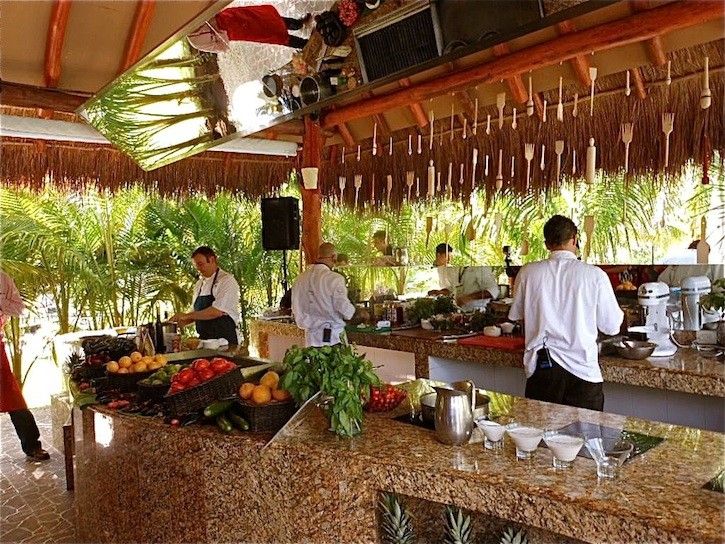 Photo Credit:Susan Kime/Kendall-Jackson/Karisma Hotels
Usually, food and wine events are dazzling displays of culinary artistry and ability—events where theory and practice become one. And, paired with great wine, these events create sensual reciprocities of taste, texture, and color; one taste working with others, often creating a savory taste synergy, called Umami—a kind of taste perfection—a word coined by the Japanese. But rarely do food and wine events define these things, PLUS a dual brand evolution of both hotel and wine. Yet this event, The first
Jackson Family Wine Culinary Series, by Karisma
, did all three.
Karisma, a high-end international hotel brand owning a collection of eleven Gourmet Inclusive properties in Mexico and Jamaica recently announced a strategic partnership with Jackson Family Wines, creators of the Kendall-Jackson wine brand, among others. Jackson Family Wines is the parent company of Kendall-Jackson, La Crema, Murphy-Goode, Stonestreet, Matanzas Creek, Freemark Abbey, Byron, Verite, Lokoya, La Jota, Edmeades, Cambria, Carmel Road and others.
This Karisma/Jackson Family Wines partnership will generate special events that include vertical tastings of many rare Private Reserve Kendall-Jackson wines, educational classes with sommeliers and winemakers, cooking courses, and an exclusive Guest Chef and Winemaker Dinner. Furthermore, Karisma Hotels & Resorts is hosting
The Jackson Family Wines Culinary Series,
a monthly wine and food program spotlighting top chefs and winemasters from around the world. I was a happy participant in the first program of this series, held January 7-11 at the El Dorado Royale Spa Resort on the Riviera Maya.
During our week of the first
Jackson Family Wines Culinary Series
, Kendall-Jackson Wine Estates' Executive Chef Justin Wangler and veteran Kendall-Jackson Winemaster Randy Ullom hosted the events at Karisma's El Dorado Royale Spa Resort. The guests saw and experienced the creation of some exceptional dishes with some exceptional wines. The taste experience was equal to the educational one, a true edu/epicurean Umami experience.
At the El Dorado Royale Spa Resort are many exceptional venues where these events took place. First, and arguable the most spectacular, is the Fuentes Culinary Theatre, a large, open air, 90-foot-high thatched roof restaurant that holds, as a guesstimate, between 200 to 250 people. Because of the multiple flat screen TVs placed above the eating areas, and the five open kitchen areas, the audience could easily see and participate in the productions of chef and winemaker, in this case, Chef Wangler and Randy Ullom.
Susan Kime
The first course, freshly caught Snook cured in lemon juice with red radish, cilantro and Chardonnay oil, paired with Kendall-Jackson Avant Chardonnay 2010; second course was Tsar Nikouali California Caviar and sweet potato panna cotta paired with Kendall-Jackson Grand Reserve Chardonnay Monterey 2010; third course was red wine pasta, homemade lamb sausages and broccoli di ciccio paired with Kendall-Jackson Highland Estates Pinot Noir, Arroyo Seco 2006; fourth course was slow roasted beef filet and braised oxtail with
hoja santa
(meaning sacred leaf; a large leaf that, when cooked has a peppery, anise taste) and chayote squash pickled in local hibiscus, paired with Kendall-Jackson Stature Napa Valley 2006. Finally, the fifth course was a tropical fruit medley with ice cream made with Meyer lemon olive oil. That pairing was with a late Harvest Kendall-Jackson Chardonnay 2007.
The second culinary venue was Los Tucanes Bar, near both the ocean and pool, where Chef Wangler introduced lunch to the group with Pinot Noir Sangria smoothies made with pomegranate molasses, Point Noir VerJus, and KJ Pinot Noir. Then, three more courses were prepared by Chef Wangler and his team.
Those who ate lunch here could see the preparation in the demonstration kitchen, or from further away, as the large mirrors above the gas burners and prep tables reflected the chefs preparing grilled lobster, Green papaya and basil salad, and coconut sorbet with vanilla passion fruit sauce and lime meringue. The papayas and coconuts were from the trees on property and the basil and passion fruit were from the greenhouse. The wine pairings included Private Select Sauvignon Blancs, Chardonnays, both Private Select and Late Harvest.
In observing all the food preparation, discussion of the food sourcing, the wine pouring, and pairing, I was aware of a deeper ideological tie that binds both brands together. It deals with a subject I wrote about a few months earlier for JustLuxe: food authenticity and transparency. The El Dorado Royale Spa Resort is home to a 100,000-square-feet greenhouse, the Riviera Maya's only facility of this magnitude, which produces 120 tons of crops and provides fresh produce to the resort as well as to its group of sister properties.
Susan Kime
The vegetables, tomatoes of all kinds, peppers, including the docile green peppers, and the fiery habaneros, cucumbers, herbs of all types, and many other fruits and vegetables are grown here and picked daily. Papaya trees full of this fruit dot the premises as well. The Jackson Family Wines also have a major commitment to eco-sensitive planting and harvesting techniques, so the tie between these two brands defines a type of emerging food authenticity as well as an eco-sensitive awareness of how to plant, grow and harvest their products. This awareness seems more than a passing trend—it is becoming a preferred way of pairing the best of both the culinary and viticulture worlds for the good of the person and of the planet.
Susan Kime
This philosophy that ties the brands also implies the relevance of time, place and season in defining food selection and preparation. These ideas came to a primary focus during our stay, and a great highlight of this event was the dinner honoring Chef Rene Redzepi of the world famous restaurant NOMA in Copenhagen, Denmark. Chef Redzepi is not yet a common household name in the United States, but he is very well known internationally as his food and preparations have unlocked the tastes of many. NOMA, his two-Michelin star and #1 Restaurant in the world two years in a row, is well known in Mexico.
Susan Kime
I have written about Rene before and his organic, innovative methods of food choice and preparation. He is a forager, using flowers, plants, live shrimp, and roots he forages daily. It was no shock then, when the first part of our dinner was the starter: a small pod filled with fresh Mezcal, and along side, were dried Mezcal worm larvae and sour orange wedge topped with mild red pepper (I had tried these dried larvae before, and knew they tasted like mildly salted nuts). After these, the menu, though wildly varied, was still very
foragiste Redzepian,
with wine pairings from Matanzas Creek and Kendall-Jackson, complimenting these unique menu items—the first course including sea urchin and a soup topped with barnacles and algae. Then, escamoles were served, (ant larvae or insect caviar) a dish native to Central Mexico, once considered a delicacy by the Aztecs. Insect caviar was served with epazotes (herbal leaves) with onion, garlic, chili pepper and butter.
Susan Kime
Then courses included smoked pork belly with black beans and avocado leaves, black cod prepared in the Tikin Xic style (marinated whole then cooked in Banana leaves), then Venison in Chirmole. Chirmole is a black Mayan paste made from Ancho peppers, cumin, Achiote and other spicy ingredients. The dessert was a mélange of Mexican bitter and sweet chocolate designs with Papantla Vanilla ice cream. Papantla is a town in the Vera Cruz, Mexico that is the vanilla producing capital of Mexico. As could be seen from this menu, a lot of thought had gone into the preparations they are native, organic, authentic and many ingredients that a forager could find on an outing.
The pricing of
The Jackson Family Wines Culinary Series, by Karisma
is an additional $300 for the weeklong program at El Dorado Royale; a la carte rates for wines and ad hoc wine and culinary experiences at the entire collection of Karisma Hotels & Resorts start at $35.
In the next few months, other confirmed participants include Kendall-Jackson Wine Estates' Chef & Cheese Specialist Tracey Shepos Cenami in February; more than a dozen renowned chefs and sommeliers as a part of the Cancun Wine & Food Festival in March; Mark and Terri Stark in April; and Kendall-Jackson Wine Estates' Chef & Contemporary Cuisine Specialist Eric Frischkorn in May.