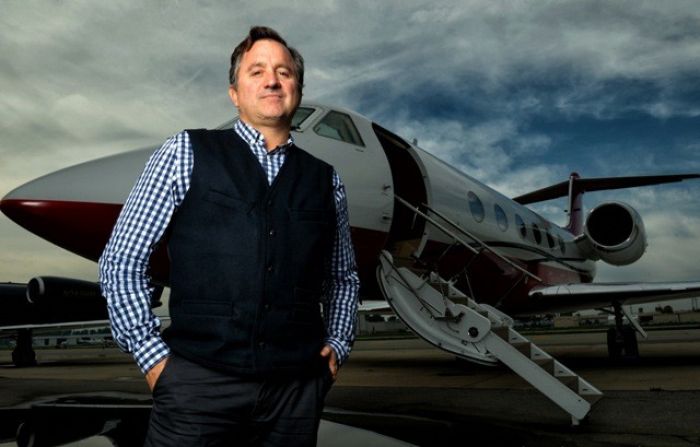 Photo Credit: Hans Gutknecht/YoungJets
If the old saying,
"success favors the well-prepared"
is true, then David Young's diverse background defines a kind of process inevitability—meaning, his prior experience led inevitably to this place where he is now: CEO and Managing Partner of 
YoungJets, LLC
, a boutique jet charter services provider that covers global jet charter needs from strategy to launch to land.
YoungJets offers preferred pricing on the nation's largest executive jet charter fleets, and offers value-oriented charter solutions on thousands of popular one-ways on a network of Wyvern-approved jets including Challenger 300, Citation X and Hawker 800XP aircraft. Also, they offer direct-to-operator pricing on a variety of aircraft from the Very Light Phenom 100 to the Ultra-Long-Range G550 or Global Express, and can custom-tailor a quote on any class private aircraft worldwide.
Citation X
Much of YoungJet's success lies in what David did before and how well prepared he was for this current venture. He was the VP of Entertainment Charter of Sentient Jet, where he was responsible for serving the jet touring needs of many of the world's largest entertainment groups. Prior to that, he spent over a decade as an artists' manager and music executive, launching many bands, and having to know the complex logistics of touring entertainers and their entourage, as well as CEOs and corporate groups with high-end travel needs.
We interviewed him recently, asking about his background and how it informs his present position.
Embraer Legacy 450
JustLuxe: We have read a lot about you and YoungJets, LLC and your experience in the music and entertainment industries. When you were in those industries, what did you see in the on-demand jet charter industry that was lacking? What needs did you see that were not being filled?
David Young:
Fifteen years ago, there were only a few players serving the touring and entertainment industry. It wasn't a segment that was being properly served. And everyone was still enjoying the effects of an economic boom. Jet owners held all the cards when it came to negotiating any long-term option on decent aircraft. Owners were flying their aircraft five hundred hours a year and not really letting them go off their jets for any extended periods of time. Inventory was lower. Anything available was usually old equipment.
These days, the whole dynamic has changed. Now, owners are flying less and chartering out their aircraft more. There is a lot of stellar inventory to choose from. It provides a superb environment for helping our clients get the best value for their money. Of course, there is a catch. Twenty years ago, becoming a broker required a good deal of effort because systems hadn't become automated yet and supplies were more scarce. Now, with the increased supply and online systems, just about anyone can aggressively bid options on a jet, regardless of what they know or don't know about aviation. We always stress that clients need to be sure their broker has the necessary qualifications before flying with them.
Beechcraft King Air 250
JL: When did you get your first revelation conceiving YoungJets as a viable business entity and a scalable brand? What led you from being in the music and entertainment business to being the CEO of a jet charter business? They seem so different.
DY:
I conceived YoungJets several years ago. I was vice president of entertainment charter services for a large broker. The company had undergone multiple acquisitions, mergers, roll-ups, and wind-outs while the economy was in free-fall. After watching great companies and their employees get chewed up due to consolidation, I told myself never again. I went for it and started YoungJets. My career began at a record label studying how to build bands into brands. After working in the music business, I started a management company not long after and experienced some great success managing bands responsible for hit songs and gold records. It was a wild ride. Definitely the learning experience of a lifetime.
During this time, I also started Environmental Vehicle Outfitters (EVO). It was the country's first eco-conscious alternative fuel car service. We quickly developed a book of celebrity clients in the music and entertainment business passionate about what we were doing. EVO taught me a great deal about how to build brand momentum through good will, positive word-of-mouth, and innovation. We had no marketing budget whatsoever, but clients were talking about us. These days, looking back, I never would have been able to start YoungJets without these experiences. YoungJets is a complete amalgamation of all these wonderfully divergent paths taken in my career.
Gulfstream G500
JL: What are YoungJets main competitive differentiators?
DY:
Our staff is the main differentiator. Honesty and transparency is what sets us apart in this business. I work very hard to impart my own experiences to them from my time in the music business and working alongside talent my whole career. Our team knows the rigors and demands our clients face. We immediately know where they are coming from, and our goal is to provide them with the best service each and every time.
YoungJets has also worked very hard to have the right strategic partnerships in place to serve our clients the best we can. Beyond that, we spend a lot of time worrying about creating the right working environment for our people. Having smart, talented staff that are able to help clients get to where they need to be on time comfortably and safely is everything to me.
Citation Mustang
JL: You said in a BusinessWire interview that the on-demand charter industry has become more sophisticated over the years. This shift is due to the changing economic landscape and fresh investment in the owner-operator model. Can you expand on this?
DY:
The owner-operator model has shifted significantly. The economics of the day has forced owners to streamline operations and become more organized. Now, we have computer algorithms telling us how to best optimize fleets. The industry has shifted to a highly sophisticated air taxi system that is really starting to work for properly capitalized companies. Depreciation issues aside, this new way of doing business works best for companies with an aircraft fleet not beholden to owners.
Fresh investments in large fleets of owner-operated aircraft used specifically for on-demand charter is a game changer. No longer is charter just an ancillary revenue source for owners who use their own aircraft on a regular basis. We have definitely seen a paradigm shift in the way we do business. YoungJets has embraced the system and is taking full advantage of this new way of doing business. The best part is how these changes are helping our clients.
Embraer Legacy 600
JL: It is also known that YoungJets does not own any planes, but is more of a private travel management group where YoungJets accesses the right private jet for the right person or group. What are some of the challenges you saw and maybe still see in being in this high people-based industry?
DY:
I enjoy working in a people-based industry because I am a people person. I like the fact that YoungJets can always offer clients the absolute best jet for their mission without being entangled in any contractual obligations. While other companies are forced to push their clients to fly in certain planes a set number of hours a month to suit their interests, we are focused on a simple premise: providing the best aircraft every time.
In the past, I have worked with everyone in the industry from the smallest to biggest operators. Currently, YoungJets would rather not have ties to any one fleet. Of course having strategic partnerships with dominate fleets is crucial, but having the freedom to always pursue the best aircraft for our clients is what makes YoungJets special.
Embraer Lineage 1000
JL: What strategic alliances do you have with private jet charters?
DY:
Immediately upon founding YoungJets, we made sure the company had proper jet charter relationships in place. We worked to secure the fastest growing Gulfstream operator and the largest one-way and point-to-point operators in the country. These strategic relationships help us in growing our business. Because we do so much touring business overseas, we have similar affiliations in place internationally.
YoungJets is very careful in who we do business with and have aligned ourselves with a handful of companies that are reshaping the jet charter industry. We have special re-seller relationships with many of these companies that allow us to pass services along to our clients without having to tack on service fees, so our customers don't take the hit financially. We aim for complete transparency in our transactions from end to end with the added value of boutique service, which is crucial in bringing the overall experience to a higher level.
Finally, YoungJets is aligned with Wyvern, the most well-respected name in independent safety auditing in general aviation. What that means on a practical level is that we have real-time access to their database. We can pull information on any operator, crew, and aircraft maintenance that we need to help make informed decisions on safety for our clients. There are no cutting corners in this business, and safety is our most important priority above all things. Having Wyvern's data is a critical component in our safety infrastructure.
Dassault Falcon 2000S
JL: What is the demographic you serve now? Who accesses your services?
DY:
Anyone with the means to fly privately can access our services. We initially served the entertainment industry coordinating touring for popular musical acts as well as film productions. That segment was a natural fit due to my background. Now, our fastest growing segments are former fractional owners and jet card owners who realize they can get the same safety and convenience working with YoungJets at half the price. The best part is we can offer this service to them on a global basis with a high degree of expertise. Working in entertainment, we've become quite adept at sending entertainers to the far reaches of the globe. We know these territories well.
Embraer Legacy 600
JL: Let me know a little more of your educational background. Where did you graduate college and in what area of study? Why I ask is that your kind of work (in our humble opinion) seems to demand almost a clinical social worker or psychologist background that involves patience, empathy, flexibility and a serious sense of humor.
DY:
That's funny. Yes, a sense of humor is essential. I have a degree in advertising and minor in political science from San Diego State. After managing bands for a decade in Hollywood, I suppose an honorary master's degree in pop-psychology is in order. I think people not in the music business wonder what jet-setting rock stars could possibly have to complain about. The truth would surprise them. I understand the mentality of our clients better because I have been on both sides of the coin. I know what it is like to feel the incredible pressure and dreadful pull of having to be in two or three places at once. I can empathize with this dilemma and relate to the pressure because I've been there with them before. The vast majority of people in entertainment work insane hours. Private jets offer the nearest way they have to being in two places at once.
The best advice I ever received relative to this subject came unsolicited from the punk rock hero Henry Rollins while we were eating breakfast together in an Amsterdam café. I was having a bad day on the road. He had never met me before, but he just looked at me very knowingly and said, "Don't let the bastards get you down, man!" It just put a certain perspective on everything. I relaxed. In this business, you're going to have good days and bad days, and everything in between. What we offer above all things to our clients is discretion and privacy. I've seen just about everything imaginable happen on the road, but you'll never hear about it from me. Those kinds of stories stay at 40,000 feet with our clients.