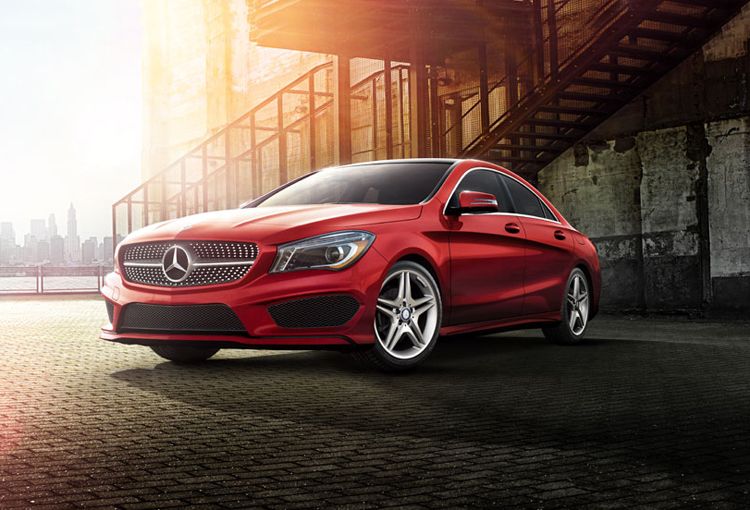 Photo Courtesy of Mercedes-Benz
New executive announcements at De Beers, Roland Iten, Christopher Kane, Galleries Lafayette, Condé Nast, Mercedes Benz and Le Meurice
Compagnie Financi?re Richemont has announced proposed changes to its Board of Directors, following the announcement that Dominique Rochat will not be standing for re-election at the Company's next Annual General Meeting ('AGM') for health reasons.
The Swiss conglomerate has nominated Jean-Blaise Eckert for election at the next AGM, to serve as a Non-Executive Director and become a member of the Board's Audit and Nominations Committee. Eckert has been a practicing lawyer since 1991 and a Partner of Lenz & Staehelin since 1999, advising on national and international corporate, commercial and tax law.
Reuters has reported that Don Butler, the head of global strategy for General Motors Co's luxury Cadillac brand, has resigned just four months after he was assigned to boost the nameplate's international sales.
Butler made the decision to leave for personal reasons after "three years of pouring everything into Cadillac," GM spokesman David Caldwell said. "He wanted to step back, spend more time with his family, consider new avenues."
Jean Falcon de Longevialle, Brand Manager, Bell & Ross
Jean Falcon de Longevialle has been appointed brand manager at Bell & Ross for the UK and Ireland. He replaces Michel Bouchard who had been with the company for six years. Most recently, Jean Falcon de Longevialle has served as Bell & Ross Spain's country manager for the past five years. Source: Retail Jeweller
Alexandre de Brettes, CEO, Christopher Kane
Following its investment in Christopher Kane, Kering has appointed its former financial communications and market intelligence director Alexandre de Brettes, to the position of CEO. Christopher Kane will remain creative director, while his sister will keep her title as deputy creative director. Source: Vogue UK
Elizabeth Schimel, Chief, Condé Nast China
Condé Nast has appointed US media executive Elizabeth Schimel as its new president in China, responsible for brands such as Vogue, Gentlemen's Quarterly and Condé Nast Traveler. Schimel moves to the role from her current post as EVP, chief digital officer of Meredith, one of the largest magazine publishers in the US. Source: M&M Global
Carlo Bianchini, CEO, Coty Italy
Coty has tapped Carlo Bianchini, formerly General Manager and CEO of Coty Prestige as General Manager and CEO of Coty Italy, as of September 1. He replaces Maria Vittoria Trombetta, who is now Vice President of Global Trade Color Marketing Coty Beauty. Source: Pambianco News
Photo Courtesy of De Beers
Mark Cutifani, Chairman, De Beers
De Beers has named Anglo American CEO Mark Cutifani to be its chairman, replacing Cynthia Carroll, who spent just a month in the post before resigning as Anglo American CEO. Cutifani is an engineer with 37 years of experience in the mining industry. Prior to working for Anglo, he was CEO of AngloGold Ashanti. Source: JCK Online
Alessandro Bogliolo, CEO, Diesel
After nearly 17 years at Bulgari, Alessandro Bogliolo is set to become CEO of Diesel, replacing Daniela Riccardi. Bogliolo began his career as a consultant with Bain & Co, first in Paris and then in Milan, joining Bulgari in 1996 as general manager for Southeast Asia. Source: FashionMag
Arnaud Bazin, Managing Director, Dior
Longtime Chanel executive Arnaud Bazin is set to join Dior in September as managing director of the leather goods, shoes and accessories division. Bazin has held a variety of positions in leather goods marketing and product development at Chanel, and was most recently merchandising director at Chanel fashion. Source: WWD
Allen Smith, CEO, Four Seasons
Allen Smith, currently CEO of Prudential Real Estate Investors, will become President and CEO of Four Seasons Hotels effective September 23, 2013.Smith has served as CEO of Prudential Real Estate Investors (PREI), one of the world's largest real estate investment managers, since 2008. Source: Hospitality Net
Photo Courtesy of Galleries Lafayette
Averyl Oates, Fashion Director, Galleries Lafayette
Former buying director for Harvey Nichols, Averyl Oates, has been appointed fashion director at Galeries Lafayette. She will also act as the deputy commercial director within the group's department stores division, overseeing the men's, women's, accessories and children's departments. Source: Vogue UK
Arnaud de Puyfontaine, Managing Director, Hearst Magazines
Hearst Magazines International has announced that Arnaud de Puyfontaine, 49, CEO of Hearst Magazines UK since 2009 and EVP of Hearst Magazines International since 2011, will add managing director, Western Europe to his responsibilities, overseeing the activities of Hearst Magazines in Spain, Italy, Holland, Germany and France. Source: Hearst
Sustainability Technical Advisory Group, Kering
Kering has set up the Sustainability Technical Advisory Group with the key objective of providing technical advice and guidance to Kering's board level Sustainable Development Committee. Non-Kering members appointed include Dr Holly Dublin, Director of Strategies, The B Team, John Elkington, Co-Founder & Executive Chairman, Volans and Michael Wells, Independent Consultant in Environment and Development; Principal, Michael Wells & Associates. Source: Kering
Alain Ducasse, Executive Chef, Le Meurice
Hotel Le Meurice has invited Alain Ducasse to take over the management of its kitchens. From September, he will start working in the gastronomic flagship restaurant and the restaurant le Dalí, bringing over 25 years of experience and menu design to Paris's first Palace hotel. Source: Hospitality Net
Thierry Chaunu, CEO North America, Mauboussin
Paris jeweller Mauboussin has appointed Thierry Chaunu CEO for North America. Prior to joining Mauboussin, Chaunu was CEO for North and South Americas for the Italian jewellery brand Damiani. He started his jewellery career in the 1980s with Cartier as senior product manager in Paris. Source: JCK Online
Ola Källenius, Head of Sales, Mercedes Benz
Germany's Daimler appointed the head of its AMG unit, Ola Källenius, to run sales and marketing for its luxury car division Mercedes-Benz Cars effective October. The Swedish-born manager replaces Joachim Schmidt, who is retiring. Source: Reuters
Photo Courtesy of Paco Rabanne
Julien Dossena, Creative Director, Paco Rabanne
Julien Dossena has been appointed creative director at Paco Rabanne He is the third designer in three years to take the creative lead, replacing Lydia Maurer who exited the label in May this year. Dossena previously worked under Nicolas Ghesqui?re at Balenciaga, before joining Paco Rabanne in early 2013. Source: Vogue UK
Peter French, President, Raffles Hotels
Raffles Hotels & Resorts has announced the appointment of Peter French as President, succeeding Mr John Johnston, who has held this role since 2009. French was most recently Regional Vice President – Europe, Middle East & Africa, and General Manager of Raffles Dubai, the group's first hotel in the Middle East. Source: Raffles
Photo Courtesy of Ralph Lauren
David Lauren, Board, Ralph Lauren
David Lauren, Executive Vice President of Advertising, Marketing and Corporate Communications for the Ralph Lauren Corporation, has joined the Board of Directors. David Lauren's election to the Board brings the number of Directors on the Company's Board to thirteen. Source: Ralph Lauren
Jean-Marc Lieberherr, Director Diamonds, Rio Tinto
Rio Tinto has appointed Mr Jean-Marc Lieberherr as Managing Director of its Diamonds business, beginning September 1. Most recently Lieberherr was Chief Commercial Officer for Rio Tinto Diamonds, having joined Rio Tinto Diamonds in 2005. Source: Diamond World
Etienne Hamoir, CFO, Roland Iten
Roland Iten has appointed Etienne Hamoir to the role of CFO, to oversee the brands expansion. Hamoir has over 20 years experience in finance, audit and advisory for local and international companies in Switzerland, having worked at PricewaterhouseCoopers for Richemont, Swatch, Franck Muller and Audemars Piguet. Source: Roland Iten
Pascal Blanc, Director of Manufacturing, Roland Iten
Pascal Blanc has been appointed director of manufacturing at Roland Iten, to build a state-of-the-art manufacturing facility, starting with the implementation of full-scale engineering and prototyping, followed by finishing and assembly and selected in-house production. Pascal Blanc possesses an impressive 25+ years experience in watch and jewelry manufacturing in Switzerland. Source: Roland Iten
Photo Courtesy of Temperley London
Ulrik Garde Due, CEO, Temperley London
Ulrik Garde Due has been named chief executive officer of Temperley London. Most recently Garde Due served as president & CEO of Georg Jensen for over five years, after working with Burberry Group as Senior Vice President International Sales, and previously at brands such as Cerruti 1881 and Céline. Source: WWD
Nathan Hubbard, Head of Commerce, Twitter
Twitter has hired Nathan Hubbard, former CEO of Ticketmaster, as its first head of commerce as the microblogger readies to launch an in-tweet e-commerce effort. Hubbard told Bloomberg; "We're going to go to people who have stuff to sell and help them use Twitter to sell it more effectively." Source: Brand Channely