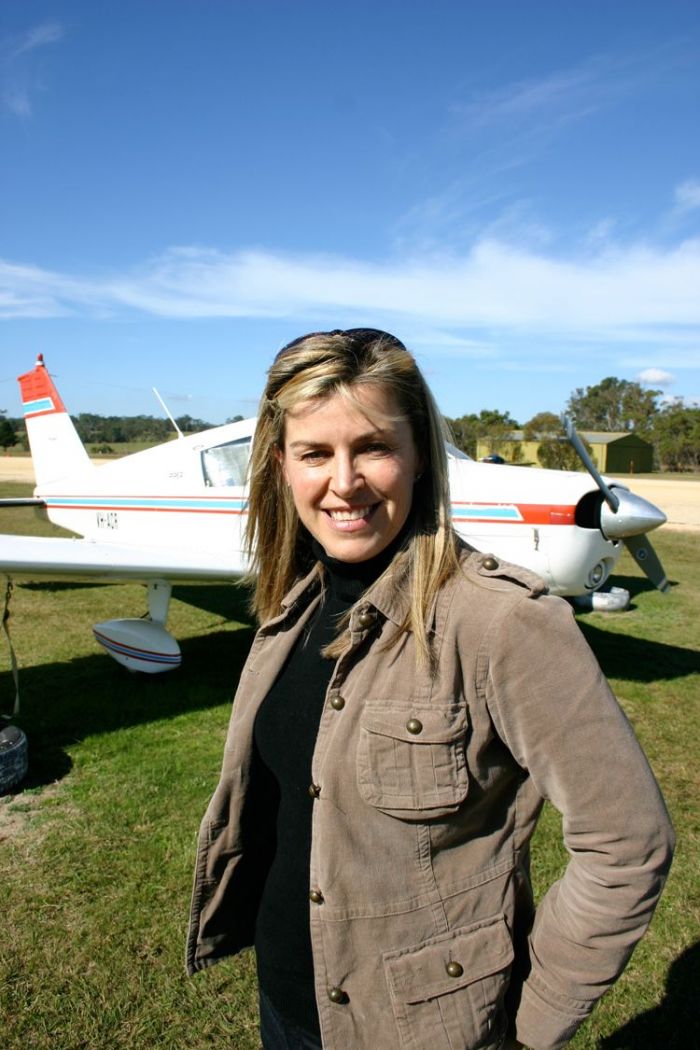 Photos Courtesy of Janine Shepherd
Australian author and motivational speaker Janine Shepherd is an inspiration to us all. The former Olympian hopeful in cross-country skiing experienced a horrific accident while training and was told she would never walk again, have children or achieve her life goals. Well, Janine achieved all of these, and so much more. The self-described "walking paraplegic" not only walked again, she learned to fly — becoming a licensed commercial pilot and aerobatics instructor. In her personal life, she had three children, one of whom is following in her footsteps, carrying the torch for her Olympic dream.
A household name in her native Australia with four bestselling books under her belt, Janine also has had her life story told in an award-winning feature film, was named one of the "Ten Outstanding Young People in the World" by Junior Chamber International, and has been honored for her work as a patron of Australasian Spinal Research.
She now has set her sights on the United States with her first book The Gift of Acceptance, which launched nationwide this summer from Hallmark Publishing. Shepherd believes that acceptance is the greatest gift of all, and one that is necessary to nurture in order to move on from tragedy to find fulfillment. The book is a collection of her wisdom, insight and advice "I hope to have my memoirs released in the near future," she says. "I plan to relocate to the U.S. to continue to share my message with as many people as possible."
Known for her inspirational Ted Talk that to date has garnered over 740,000 views, she also recently spoke at the Chopra Center in Carlsbad, California. Deepak Chopra comments, "Janine is a change agent. She has an extraordinary ability to ignite people's spirits and move them to find the real potential of their lives; her story inspires people around the world."
"I speak all over the world, to English and non-English speaking audiences, and the reaction is always the same because it is a universal message," Janine explains. "When we speak from the heart, we connect to the common human experience and when we do that, it doesn't matter where we come from. We all face the same struggles, hopes and dreams for the future and we all need to know that we are not alone and that we are all connected."
On October 6, Janine will give the keynote at the national conference for the American Women's Business Association in Little Rock, Arkansas. "I am excited to speak to the ABWA's conference. There are many messages in my presentation and everyone will take something different away. I share the lessons I have learned on my journey and teach the audience how to integrate them into their professional and personal lives."
As we approach the 2014 Winter Olympics, it is fitting that Janine's daughter Annabel shares in her quest for Olympic gold. Annabel recently made Australia's Olympic squad in freestyle/slope style skiing, and hopefully will represent her country in Sochi. "It will be a very emotional experience for me and even more so to watch my daughter carrying the torch for both of us," illustrates Janine. "Perhaps I will make the Olympics after all!"
When asked who is it that inspired her, Janine answers without hesitation: "Maria, the girl that was in the hospital bed next to me when I had my accident. She was in a car accident and woke up from a coma on her sixteenth birthday as a complete quadriplegic. She was always smiling and happy and I never heard her complain about her life. We have remained friends to this day and she is the most courageous person I know."
Janine shares advice with today's youth by explaining, "Often when we're young, we end up living the life that our parents or others believe we should have, and we miss our true calling. Be guided by your heart, and listen carefully to what it is telling you. When we do that, life becomes an adventure, a heroic journey, and we understand that tough times are guiding us along the way; to develop the skills and strengths we need to fulfill our destiny."