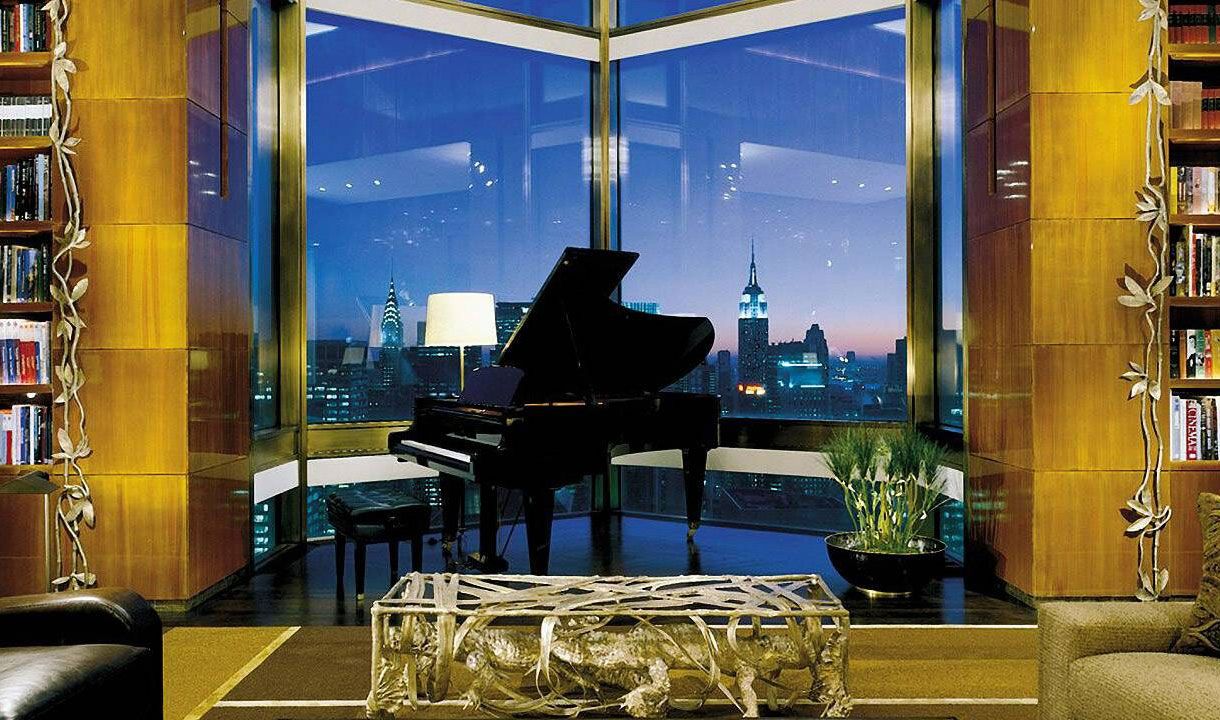 Photo Courtesy of Four Seasons Hotel New York
Tomorrow is Valentine's Day, and the world's ultra-wealthy are sure to spend it showering their loved ones with lavish gifts, special surprises and maybe even a night away from home at an extravagant hotel. Since your average-everyday suites won't do, they are more than likely spending their dollars at one of the world's most exclusive hotel suites.
Assisting those high-net worth individuals in finding just the right place, Wealth-X and partners Kiwi Collection and Elite Travel International, came out with the top accommodations around the world whose grand price tags easily matched their level of opulence. Initially, the list was gathered with average price per night being a deciding factor (one suite per city) and then was shortened by taste, style and exclusivity of the suite.
Photo Courtesy of Hotel President Wilson
Here are the world's top ten most exclusive suites:
1. Royal Penthouse Suite at the Hotel President Wilson
Geneva, Switzerland
Average price per night: US $67,000
Size: 5,905 square feet
2. Ty Warner Suite, Four Seasons Hotel
New York City, USA
Average price per night: US $41,000
Size: 1,312 square feet
3. Hilltop Estate Owner's Accommodation, Laucala Island Resort
Laucala Island, Fiji
Average price per night: US $40,000
Size: 3,937 square feet
Photo Courtesy of Grand Resort Lagonissi
4. Penthouse Suite, Grand Hyatt Cannes Hôtel Martinez
Cannes, France
Average price per night: US $37,500
Size: 590 square feet
5. The Royal Villa, Grand Resort Lagonissi
Athens, Greece
Average price per night: US $35,000
Size: 1,345 square feet
6. Royal Suite, Hôtel Plaza Athénée
Paris, France
Average price per night: US $27,000
Size: 1,476 square feet
Photo Courtesy of the Mandarin Oriental Pudong Shanghai
7. Presidential Suite, Mandarin Oriental
Pudong, Shanghai, China
Average price per night: US $26,450
Size: 2,585 square feet

8. Shangri-La Suite, Shangri-La Bosphorus
Istanbul, Turkey
Average price per night: US $26,385
Size: 1,200 square feet
Photo Courtesy of Hotel Cala di Volpe
9. Presidential Suite, Hotel Cala di Volpe
Porto Cervo, Italy
Average price per night: US $26,000
Size: 1,476 square feet
10. The Apartment at The Connaught Hotel
London, UK
Average price per night: US $23,500
Size: 935 square feet