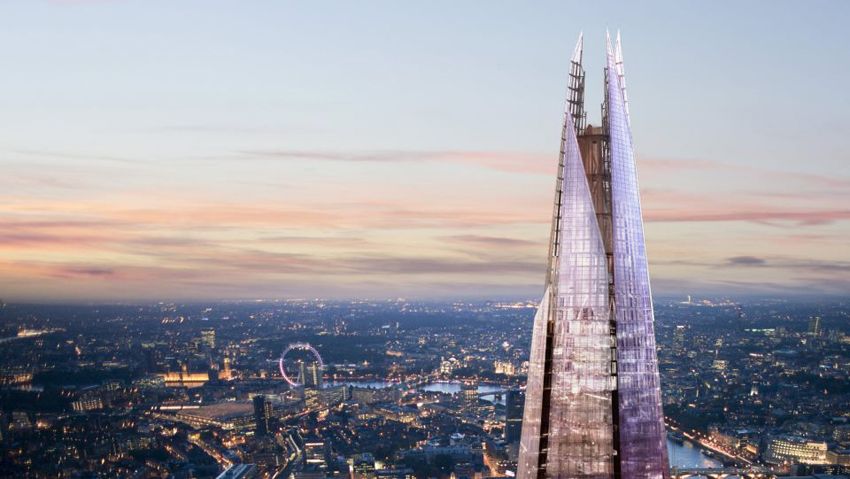 The Shard; Photo Courtesy of Teighmore
For the past 14 years, the world's tallest buildings have been vying for the Emporis Skyscraper Award, and this year the honor went to Renzo Piano's The Shard in London. Chosen by the an international panel of experts, over 300 skyscrapers were up for the award — all of which were finished during the previous calendar year and are at least 100 meters in height (around 328 feet).
Standing at 306 meters (around 1,003 feet) tall, the glass fragment-shaped Shard is comprised of 73 floors and, according to Emporis, is currently the tallest completed building in Western Europe. "Construction of The Shard was complicated by the particularly tight site and therefore needed innovative planning. This makes the result all the more impressive: a skyscraper that is recognized immediately and which is already considered London's new emblem," says the jury.
Second place went to Dominique Perrault Architecture's DC Tower 1 in Austria, which is 250 meters (820 feet) tall and features three mirrored sides and a jagged fourth to bring dimension. The Sheraton Huzhou Hot Spring Resort in China won third place, designed by MAD (who got first place last year with their Absolute World 1 Tower in Canada) to replicate a giant ring and stands at 102 meters (335 feet) tall.
Check out the complete list to see what other skyscrapers made the top 10!
Sheraton Huzhou; Photo Courtesy of Starwood Hotels
1: The Shard (United Kingdom)
Height: 1,003.94ft
Floors: 73
Location: London
Architect: Renzo Piano Building Workshop S.r.l.
2: DC Tower 1 (Austria)
Height: 820.21ft
Floors: 60
Location: Vienna
Architect: Dominique Perrault Architecture
3: Sheraton Huzhou Hot Spring Resort (China)
Height: 335.30ft
Floors: 27
Location: Huzhou
Architect: MAD, Ltd.
Cayan Tower; Photo Courtesy of Cayan
4: Cayan Tower (United Arab Emirates)
Height: 1,008.20ft
Floors: 73
Location: Dubai
Architect: Skidmore, Owings & Merrill LLP

5: One Central Park East (Australia)
Height: 383.86ft
Floors: 34
Location: Sydney
Architect: Ateliers Jean Nouvel, PTW Architects Pty Ltd

6: Flame Towers (Azerbaijan)
Location: Baku
Architect: HOK
Mercury City; Photo Courtesy of Liedel Investments
7: Mercury City (Russia)
Height: 1,111.61ft
Floors: 75
Location: Moscow
Architect: Frank Williams & Partners, M.M.Posokhin, G.L. Sirota

8: Ardmore Residence (Singapore)
Height: 445.21ft
Floors: 36
Location: Singapore
Architect: UNStudio

9: AZ Tower (Czech Republic)
Height: 364.17ft
Floors: 30
Location: Brno
Architect: Architektonická kancelář Burian-Křivinka

Nanfung Complex; Photo Courtesy of Aedas
10: Nanfung Commercial, Hospitality and Exhibition Complex (China)
Location: Guangzhou
Architect: Aedas

10: Tour Carpe Diem (France)
Height: 531.50ft
Floors: 38
Location: Courbevoie
Architect: Robert A.M. Stern Architects, LLP