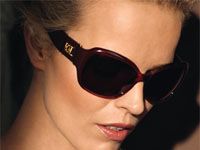 News & Trends:
Escada has filed for bankruptcy protection. Sadly, we have watched and waited, and now it's official. After months of financial negotiations, the German company filed on August 13th in Munich according to a spokesperson for the court, Ingrid Kaps. As a result, Escada's stock has dropped more than 70 percent on the NYSE. The Wall Street Journal stated that for 2008 the company announced a net loss of 70 million Euros, with sales at 528 million.
As a name, Escada began in 1979 and over the years has grown to be one the world's premier luxury fashion brands, acquiring St. John Knits in 1989. This is not the first time the company has seen financial hardships; it sold off St. John just a few short years later to pay off debt. During the last few years, Escada has been focused on further developing their high-end lines, including their haute couture. The company also includes a sport line, fragrance, cosmetics and accessories. Most of the profit Escada sees originates in the United States and Europe, their principle manufacturing is based in Germany. Many celebrities favor Escada, Demi Moore, Karolina Kurkova, Katie Holmes, Tom Cruise and Katherine Heigl have all graced the red carpet donning the luxury designs.
There is hope yet, that one of our favorite luxury brands will turn around, as they have in the past. If not, loyal fans of the brand might want to go on a shopping spree before it is too late. A few of the things on our shopping list?
The bag above is perfect as an everyday bag, and stylish enough to take out on the town. We are loving the unique coat and the tan dress is perfect for day.
For
JustLuxe
Courtney Driver