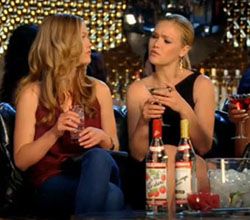 News & Trends:
Would you have a drink with Julia Stiles? Of course you would. But the real question is, would you share a drink with yourself? Stolichnaya Vodka has recently announced actor Julia Stiles as the second Stoli Original to be featured in their multi-platform campaign, Would You Have a Drink With You?
The campaign, which will run through 2011, will feature multiple celebrities who represent a unique spirit of originality. Based on the tag line, "The most original people deserve the most original vodka. Stoli. Lead On," each 15-and 30-second commercial spot is designed to challenge the consumer by asking how well they measure up.
Filmed in a nightclub, the commercials feature Stiles seated at a table enjoying a drink with herself, revealing that there is more than meets the eye with this young star.

"We selected Julia Stiles as our second Stoli Original as she, like the brand, has developed a singular vision for her life and career," said Andrey Skurikhin, partner at SPI Group, brand owner. "Stoli is excited to continue to announce future Stoli Originals throughout the coming year that allows consumers to get to know these notable individuals in a new and different way."





The campaign, which was conceptualized by Ogilvy & Mather and directed by Bryan Buckley, originally launched last May and featured Playboy founder Hugh Hefner. While the TV spots featuring Julia Stiles first aired early this month, the print ads shot by Mark Seliger will begin running in September.